Woman finds out the burglar entering her home was actually her neighbor
A couple from Mar de la Plata, Argentina, installed security cameras to find out who was entering their house and stealing from them. To their surprise, the burglar is their neighbor.
Ayelen Alvo's home had been robbed on several occasions. First, the lock at the door was forced, and when she put maximum security chains and padlocks, the thefts found another way to enter the house.
She made a complaint to the local police, but tired of not getting answers and not receiving help from the officers, she decided to install security cameras outside and inside her home, making sure she would catch the robbers if they tried to break in her house again.
And sure enough, they did.
According to her Facebook post, she and her boyfriend were already wary of the neighbors, but it wasn't until they checked the footage from the cameras that the suspicions were confirmed.
DISCOVERING THE BURGLAR
In the clip, Ayelen discovered with indignation that the thief was the youngest daughter of her neighbor. A 20-year-old girl identified as Carolina Belén that can be seen entering the house through a small window in the kitchen as if she had done several times before.
Minutes later, the young woman exits the house through the same window, pulling out a heavy backpack from inside the residence and quietly retreating as if nothing happened, and as if that was her own home.
Ayelen confronted her neighbor, who didn't hesitate to immediately return the backpack with the belongings her daughter had stolen. In the bag, she explained, was a smartphone, shoes and other items of relative value.
Ayelen spread the accusation and her anger on Facebook, where thousands of people from the neighborhood supported her and added to the discontent, also criticizing the rudeness of the young woman and the lack of respect for her neighbors and parents.
According to Ayelen, she already submitted the footage to the police and sued the girl for stealing on several occasions. Is not clear what happened to the thief.
KARMA WORKS FAST ON A SLY THIEF
On a similar story, a woman tried to steal money without anyone seeing her, but karma played a trick on her.
A hardworking Brazilian couple installed a camera to catch the thief that had been robbing their money for months, but they added a little trap too.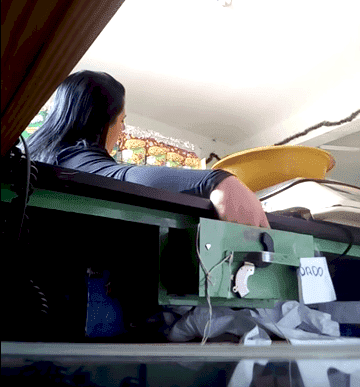 On the drawer where they keep the cash, they added a mousetrap, and once the stealth woman tried to sly her hand through the drawer, she got caught. However, she didn't scream and kept her cool, slowly trying to remove her hand just before the owner realized what had happened and came to collect the camera.
It turns out; the woman is a long-time client of the couple's business that betrayed their trust with her actions.