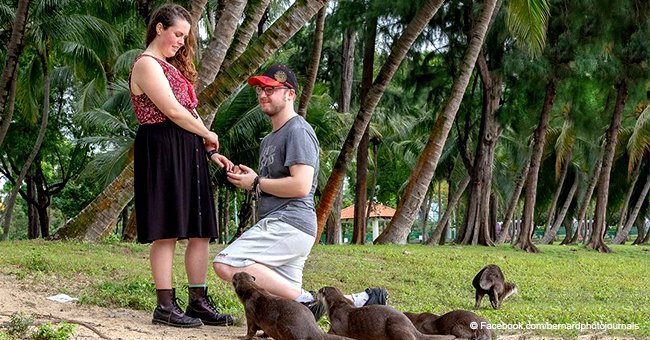 Couple goes viral after otters photobomb the man's romantic proposal
Jordan Doyle took his girlfriend Mary Lister to Singapore to see some otters as they love them.
Little did she know that he would propose while surrounded by the animals. Bernard Seah, a wildlife photographer, uploaded to Facebook the photos and the story of the proposal.
He said that the couple contacted him to see otters in Singapore and, when Jordan kneel near the place the animals were swimming, they joined the celebration.
Thankfully, the photographer captured their curiosity in the photos that became viral soon after they hit the internet. One of the most striking aspects of it is that Jordan didn't arrange it.
People took to the comment section to share their thoughts. Some of them admitted that it was an outstanding image while others made jokes, like, "What an otter-ly amazing event!"
WAITING FOR THE RIGHT TIME
He revealed that he had been planning to propose since August, but waited for the best moment to do it. When the couple spotted the otters in the river, Jordan knew it was the perfect time to do so.
In an interview Bernard had with Today, he revealed that the couple was amongst a group of people, but that he noticed that Jordan and Mary walked to one side, so he knew something was going on.
ASKING THEM TO REPEAT THE PROPOSAL
Unfortunately, he couldn't photograph the actual proposal because it happened too quickly and he was not aware of it, so he asked the couple to redo it.
That's when the otters got in the picture, something that not even Bernard expected.
BE CAREFUL!
"At first it was cute, but then I started to remember stories I heard about them taking down a caiman, so I was like, 'Right, we have to be careful,'" said Jordan, whose face showed a bit of concern in some of the pics.
The couple stayed in that place for about three minutes, probably to give Bernard enough time to get the perfect takes.
Jordan admitted that his knee was in agony as he was doing "some sort of yoga balancing act" to stay still.
ANOTHER UNUSUAL PHOTO OF A COUPLE
Jordan and Mary are not the only couple who has a fantastic photo as April Choi and Bethany Byrnes, who tied the knot earlier this year, are adrenaline-cravers, so they decided to set their wedding dresses on fire at the end of the ceremony.
The brides each wore cotton tights and tied their hair back to avoid their skin or hair burning. They also modified their dresses by attaching slow-burning duck cloth canvas to the trains of the dresses.
In the end, the moment was captured in camera, and the photos are one of a kind.
Please fill in your e-mail so we can share with you our top stories!