ABC shows 'Charlie Brown Thanksgiving,' but one scene was called racist by some viewers
The classic special "A Charlie Brown Thanksgiving" brings up nostalgia, hope, and warm memories for many. But for others, some anger also comes up due to a scene with racist connotations.
ABC aired the animated Peanuts film on Thanksgiving last night. The storyline follows Peppermint Patty who invites herself over to Charlie Brown's house.
Charlie is actually supposed to go to his grandmother's for Thanksgiving dinner. His friend Linus has to convince him that it is possible to have two Thanksgivings.
Follow us on Twitter for more @amomama. 
Ah, #Thanksgiving time... that special time of year where we give thanks, eat big meals, catch up with family and friends... and reuse that meme joke about how Franklin is on his own side of the table in the Charlie Brown Thanksgiving special. pic.twitter.com/iMuhN6IWbs

— Andre (@BlackNerd) November 21, 2018
Other children are invited, and Woodstock and Snoopy prepare the meal. Together, the kids feast on jelly beans, popcorn, pretzel sticks, buttered toast, and ice cream sundaes.
The point of contention lies in the seating arrangement in Charlie's backyard. Charlie headed the table while four kids sat on one side.
On another side sits Franklin, the group's only black friend. He is on his own and sitting on a lawn chair.
watching a charlie brown thanksgiving. and every year i ask why does franklin gotta be on his side of the table by himself. #Peanuts

— Kayla Adams (@kgalamode) November 22, 2018
One person commented:
"Watching Charlie Brown's Thanksgiving is hard knowing they put my [expletive] Franklin at the end of the table by himself."

- ariel (@Sincerely_AJP) November 21, 2018
Franklin looks quite lonely, and many assume he's also uncomfortable in comparison to everyone else who has a proper chair.
Another twitter user said:
"Watching A Charlie Brown Thanksgiving as I always do and I'm tight [as expletive] every year because they give Franklin a freaking folding pool chair to sit on while everyone else has a comfy chair." -

— J'na (@TheNotoriousJNA) November 22, 2018
Some persons pointed out that Franklin was given a "special" position and reminded other viewers that the show's creator made waves with getting representation for black people.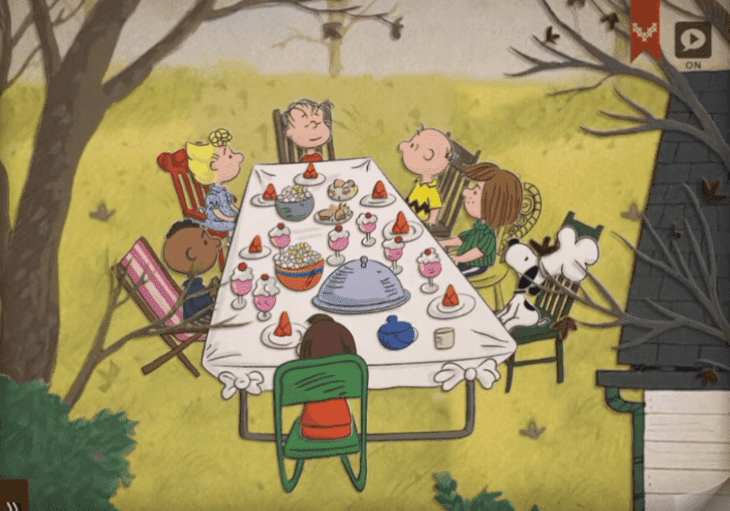 Nevertheless, several black people remained focused on the apparently racist look of the scene. Meanwhile, others pointed out something else that's disturbing.
Snoopy's bird friend Woodstock is also at the table. Like everyone else, he's prepared to chow down on another bird. The cannibalistic scenario seems quite bizarre.
Never forget that A Charlie Brown Thanksgiving ends with casual cannibalism, as Woodstock, a bird, sits down to a turkey dinner with Snoopy.

— Rachael Kelley (@RachaelKelley13) November 22, 2018
It appears, however, that many people have no qualms with any of this and simply want to enjoy their ritualist viewing of the show.
The special has been airing since it's release to CBS on November 20, 1973. In 2001, CBS lost its rights and NBC then picked up the annual airing.
Watching an old favorite of mine, " A Charlie Brown Thanksgiving" with the whole gang.

— Vincent (@apatientman) November 22, 2018
For a full schedule of your favorite Thanksgiving specials, you can go here. CBS is expected to play the revival show "Murphy Brown," on November 22.