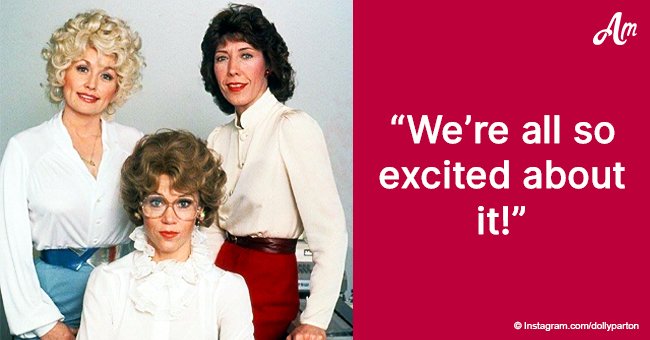 Dolly Parton opens up about a sequel of iconic comedy '9 to 5' and the comeback of her costars

Almost 40 years after the comedy film secured Dolly Parton's place in mainstream popular culture, fans are excited with the sequel to come, and the singer and actress shared some details about it.
Entertainment Weekly interviewed the 72-year-old country music star and she addressed the subject of the sequel to the 1980 film, for which its three female leads are set to make a return, letting us know her impressions on the project.
Parton, Lily Tomlin, and Jane Fonda are on board to reprise their roles, with Fonda as an executive producer. After years of turning down the possibility of a sequel to the box-office hit, the stars finally were convinced to do it.
The upcoming film will have the feel of the original but adding a modern twist, with screenwriter Pat Resnick collaborating with "Parks and Recreation" Rashida Jones. Read more on our Twitter account @amomama_usa
THE THREE STARS ARE FINALLY ON BOARD
The "Jolene" star made clear that she and her co-leads will have to green light the script before the production starts, but she feels the time is right to revive the story of these three working women to a younger generation.
"We're all so excited about it, I've been advertisin' that we are doing it! Of course, you always have to approve it — I don't want to be a part of anything that's not gonna be great, which I'm sure that it will be."
-Dolly Parton, Entertainment Weekly, November 21, 2018.
A SUBJECT MORE RELEVANT THAN EVER
"9 to 5" conquered the audience with its portrayal of three empowered secretaries that decide to get even with their chauvinistic, abusive boss, Frankling Hart Jr. played by Dabney Coleman
Now that the fight against sexism inside and outside the workplace has gained momentum in the wake of the #MeToo movement, it might be the perfect timing for an updated take on the original concept.
PARTON WAS RELUCTANT TO DO IT FOR SO LONG
This was taken into consideration by Parton, who had been reportedly reluctant to appear in a sequel of the iconic comedy until now.
"I was never willing to do a sequel, because they never came up with anything that was as good as the original. I don't like to mess with history, you know?" Parton admitted.
THE MOMENT IS RIGHT
"But this would be addressing the same issues, and they need to be addressed again and some more, in different ways," she added, in tune with 80-year-old Fonda, who is sad to see that the issues they addressed in "9 to 5" have gotten worse in the decades that have passed.
"I'm sorry to say the situation is worse today. Today a lot of the workforce is hired by an outside company. Who do you talk to if you have a problem?" the actress and political activist said earlier this year.
EXCITED TO WORK WITH YOUNGER ACTRESSES
Parton also shared her excitement about passing on the baton to a new, younger set of stars –yet to be announced- who will complete the cast for the film.
They're gonna pick our brains for information, so that's gonna actually lend itself to some really funny stuff, some cute stuff. And then, there's having six great women, instead of just the three," celebrated Parton.
PARTON DOESN'T MESS WITH POLITICS
While the country legend is happy to be of service for the women's movement, she normally prefers to stay away from political issues, and in 2017, when she was sharing the stage with her "9 to 5" co-stars for the first time since the film release, she shut a reporter for trying to drag her into politics.
"I don't want to offend anybody. And besides, I don't get into that. And so, if you are deciding you may want to ask me something more serious, don't. Because I am not going to answer it," she later declared.
SHE OPENED UP ABOUT HER BODY IMAGE STRUGGLES
After more than 50 years of artistic career, Parton is still relevant and apart from her talents and legacy, she still stands out for her incredible physique.
The American icon is the subject of People's latest cover story and, despite her sex-symbol status; she admitted to the magazine that she has struggled with her body image for all her life.
She also lamented that women are under so much pressure to comply with beauty standards, and had a piece of advice for young women today.
"You don't have to look like a supermodel. I really worry a lot about young girls today because they think they have to look like the models or the people on television. We need to be accepting of ourselves in how we are," Parton said.
Please fill in your e-mail so we can share with you our top stories!