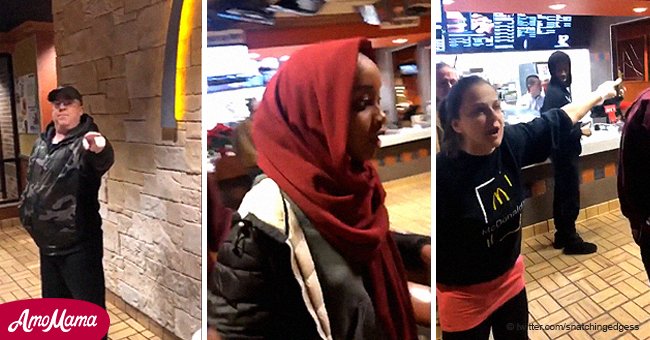 Man who reportedly pulled a gun on Muslim teens at McDonald's under investigation
The authorities at Minnesota have been investigating the recent altercation at their local McDonald's between a man who reportedly carried a gun and a group of Muslim youngsters.
Outraged Twitter users were calling out how the fast-food chain's staff handled the situation after several videos popped up on the social networking platform.
In one of the videos, the group of teenagers can be heard yelling, "He has a gun!" as the man is walking out of the restaurant.
Although there was no gun spotted in the video, the teenagers' reactions seemed to show how panicked they were when the man suddenly turned around.
Follow us on Twitter at AmoMama USA for more details and updates.
Seconds later, a McDonald's employee ordered the group of youngsters to also leave the premises. Bystanders defended them and intervened.
One man said, "Don't send them out there when the dude just pulled a [expletive] gun on them. You better call the [expletive] cops, is what you gotta do."
In addition, another employee allegedly told the teenagers that the man would have "pulled out a gun for a reason."

Source: Twitter/ farida
The day after the incident, the Eden Prairie Police Department
released
a statement saying they started investigating after they received a 911 call "regarding disorderly conduct" at McDonald's.
According to the statement, the witnesses heard a "verbal altercation between an adult male and a juvenile male, during which the adult male reportedly displayed a gun before leaving the scene."

Source: Twitter/ farida
Reportedly, the younger male was trying to use Apple Pay when the adult man said racist comments, said one of the teenagers to Muslim Girl.
Farida Osman said, "Jihan heard the man say, 'You're probably using EBT and she immediately turned to him and said, 'Just because I'm black, doesn't mean I use EBT.'"

Source: Twitter/ farida
EBT or electronic benefit transfer is a system wherein welfare benefits are deposited into a debit card, which owners can use to pay for stuff.
During the confrontation, the man reportedly became aggressive and pulled out his gun.
As for the McDonald's employees, they have yet to make a comment regarding the incident.
Meanwhile, another man turned himself in after he was caught on video taunting black college students with his gun.
Reportedly, he was telling four Florida A&M University college students that they had no right to set foot in his apartment that was off-campus.
In another story, a father from Quebec, Canada filed a lawsuit against McDonald's for allegedly breaking the law on child advertising.
He claimed that he had spent too much money buying Happy Meals for his children once every two weeks.
Please fill in your e-mail so we can share with you our top stories!