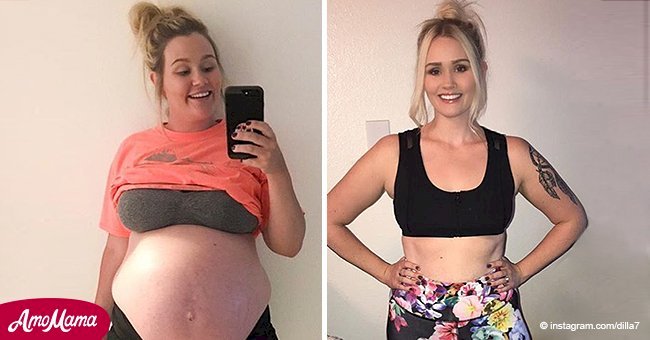 Obese woman followed 6 simple rules and lost 150 pounds in a year and a half
Kassidy Linde topped out at 260 pounds at one point of time during her pregnancy. Determined to turn her life around completely, she is today an inspiration for thousands of people seeking to maintain their weight.
In an interview with People, Linde explained that she had gained so much weight that she couldn't find anything beautiful in her when she looked in the mirror. She also lost all hope of ever being fit and healthy. But the birth of her baby girl, Harley, changed everything.
25-year-old Linde told the source that she was determined on becoming a role model for her daughter. "I wanted her to look up to me and admire me," she stated.
Following her pregnancy, she then set out on a journey of weight loss that spanned over one-and-a-half years. During this time, she managed to lose about 130 pounds.
Follow us on Twitter to learn more.
Today, she is studying to become a certified personal trainer who is dedicated to using her transformation as a medium for inspiring countless others.
She has gathered over 10,000 followers on Instagram, who turn to her post every day for inspiration, and Linde shares the intimate details of her weight-loss regime so that everyone can follow in her footsteps.
"Some days you won't want to go, GO ANYWAY. The days you overcome are the days that count the most!"
Here are some of the basic life-changing habits she Linde adopted as a part of her weight-loss routine, which she shared through her various Instagram posts:
In her interview with People, Linde admitted that she stopped making all the excuses and started drinking over a gallon of water each day, which amounts to 16 cups of water throughout the day.
Simple But Consistent Diet
Linde suggested treating one's diet as a lifestyle. "That's where the difference between diet and lifestyle come in," she shared on Instagram, further adding that she would have failed if she treated her routine as a diet plan.
"Since this is a lifestyle, I just pick up where I left off and keep going. It's not going to be smooth or easy. You might have a cheat meal or a cheat month. Either way, pick yourself up and keep going."
Kassidy Linde, Instagram, April 7, 2017
In one of her motivational Instagram posts, Linde suggested her followers to not think about losing 100 pounds. She would rather have her goals break down and focus on losing "10 pounds, 10 times."
Don't Count the Calories!
She never engaged in keeping the count of the calories. She would eat healthy as much as it took to feel full. According to her, counting calories would only make her stress out more.
Preparing Meals Every Week
She has a fixed routine and she pushes herself to stick to that routine. Even she doesn't feel like it, she forces herself to hit the gym. "Some days you won't want to go, GO ANYWAY. The days you overcome are the days that count the most!" she wrote.
Keeping the progress of her weight-loss regime on Instagram turned out to be a huge motivator for her. "Putting yourself out there and letting yourself be vulnerable to thousands of people really makes you want to give it your all and do your best," she explained.
Having stated all these important pieces of advice, there is another special consideration regarding weight-loss regime that Linde has suggested everyone undertake.
In one of her Instagram posts, Linde suggested her followers to take a break from their routine if they feel absolutely exhausted. Rather than quitting altogether, it is often a better idea to keep taking smaller breaks.
People like Linde always inspire to go beyond our imagined limits and make things possible with determination and will.
Zach Moore is another such person, who has become an inspiration for many after he lost over 350 pounds. He took on the difficult task in order to be able to see his son grow up.
Please fill in your e-mail so we can share with you our top stories!