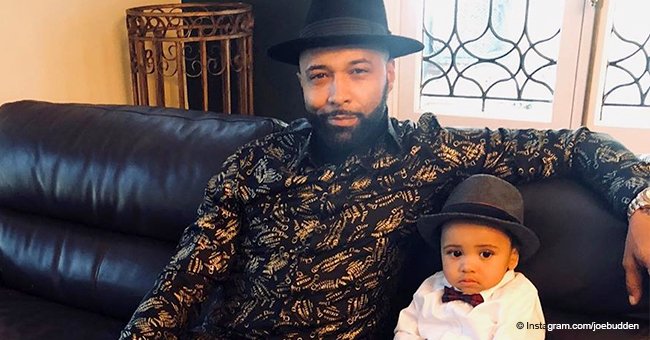 Joe Budden & baby son melt hearts, rocking matching outfit & fedoras in adorable photo
Joe Budden, the celebrity best known for "Love and Hip Hop: New York," took to Instagram to share a lovely photo next to his son wearing similar outfits.
In the photo, the musician appeared wearing black shoes and pants, and a black and golden shirt while looking directly at the camera. The baby, Lexington Budden, was sitting next to his father very calmly, just as any grown-up child would.
He was barefoot while wearing grey pants, a white shirt, and a red bowtie. One of the aspects that attracted more attention was that both Joe and Lexington put on fedora hats.
PEOPLE'S REACTION
As soon as the man uploaded that image, his followers took to the comment section to share their thoughts. One of them admitted that Lexington was a "handsome little man," while others pointed out how similar both of them looked.
MARRIAGE RUMORS
Joe Budden and Cyn Santana, the mother of Lexington, have been together for a while now. Even though they have been involved in some engagement rumors in the past, this time around seems to be it, according to VH1.
A recent photo that Cyn uploaded showed her wearing a pink ensemble and some pieces of jewelry. The most striking one, of course, was the huge ring on her left ring finger. While it might be just a coincidence, it looks a lot like an engagement one.
PEOPLE HAVE CONGRATULATED THEM
When some of her followers noticed the big rock on her hand, they took to the comment section to congratulate her on her engagement, saying that she and Joe made a wonderful couple and that they wished they had more children.
JOE'S OLDEST SON
Lexington is not Joe's only son. When he was younger, he welcomed Trey Budden to the world. However, their relationship is not as good as expected. During an interview he had with "The Breakfast Club," Joe admitted not regretting not being around Trey because "he made every effort to be there."
HE DOESN'T REGRET NOT BEING AROUND
"It's not like I was just gone and lost. That was me and his mother's battle. Now that he's older, her and I are amicable, she's married and we're great now. I never thought that day would come. My oldest son is with me every other weekend, any time he can come over and hang with dad [sic]," revealed the rapper turned hip-hop commentator.
Joe said that Trey was very angry with him for not being around, but time made things get better, and they have a better relationship nowadays.
Please fill in your e-mail so we can share with you our top stories!