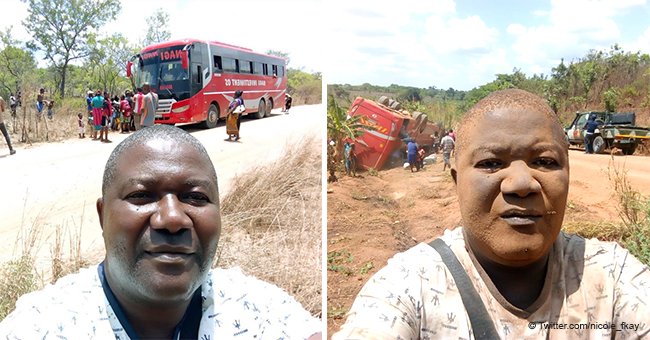 Man's before & after crash selfie goes viral after bus overturns on a road
A man traveling on a bus that eventually met an accident went viral after he shared before and after photos of him posing outside the vehicle.
The photos were taken in Mozambique and show a red 65-seater bus traveling from the town of Quelimane to Beira.
According to reports, the accident was proven fatal after three people were killed in the crash, including a mother and her two-year-old son.
The man clearly looked happy prior to boarding the bus, as he could be seen smiling while his fellow passengers loaded the bus in the background.
After surviving the accident unscathed, he walked a few steps away from the bus before snapping a photo of him in a smilier position, but this time without a smile on his face as police and passengers who survived surrounded the bus that has completely flipped around.
According to Daily Mail UK, the accident happened near the Mucosa River, near the village of Gorongosa in Mozambique. The alleged cause of the accident was due to the driver over-speeding, eventually losing control of the vehicle. It resulted in at least 37 passengers with minor to serious injuries. They were rushed to the Gorongosa health center, where they received necessary medical treatment.
While the police feel that the accident was caused by over-speeding, the driver, Amiss Mussa, blamed it on mechanical failure. The 48-year-old bus driver said that the mechanical failure made it impossible for him to control the vehicle while they were on the bridge. However, after confirmation from other passengers, the driver was indeed over-speeding, and even ignored repeated requests to slow down from concerned passengers.
A Gorongosa administrator also reported that an hour prior to the crash, he passed the bus traveling in the opposite direction, and it was already traveling at an alarming speed at the time.
A more thorough investigation is being done at the moment, in order to identify the exact cause of the crash.
Please fill in your e-mail so we can share with you our top stories!