7-year-old girl blows everyone away with her performance of the national anthem at MLS
After winning a competition that the soccer club LA Galaxy created, Malea Emma, a seven-year-old girl, got the chance to sing the "Star-Spangled Banner" before one of the club's match.
Even though it was evident that the girl must have been a good singer to qualify for such activity, nobody expected that Malea could wow the crowd and players in the way she did.
A video that the Major League Soccer's YouTube channel uploaded showed the girl singing at the StubHub Center in front of about 25,000 people almost flawlessly.
A FANTASTIC PERFORMANCE
Not only the audience got gladly surprised with Malea's voice, but also the players of the Seattle Sounders and the LA Galaxy, including Zlatan Ibrahimovic, the star of the Californian team who is known for being quite serious.
When Malea hit the highest note, the crowd erupted in cheers and applause, praising her fantastic job. At the end of her presentation, not even Zlatan could hide his smile.
ZLATAN GOT SURPRISED
Malea apparently became Ibrahimovic's good luck charm as he managed to score his 501st career goal and the 18th of the season. His team ended up winning the game by 3-0.
He later took to Twitter to congratulate Malea, pointing out that the girl was the MVP (most valuable player) of the game. As soon as he did that, several people started a threat also praising the young singer.
HER PERFORMANCE IN "AMERICAN IDOL"
Soon after singing before that match, the Indonesian prodigy went to "American Idol" to sing in front of judges Lionel Richie, Katy Perry, and Luke Bryan. she chose the national anthem and  Aretha's Franklin's "Think." At the end of the presentation, she got the royal ticket for 2027 because she had to be at least 15 years old to compete.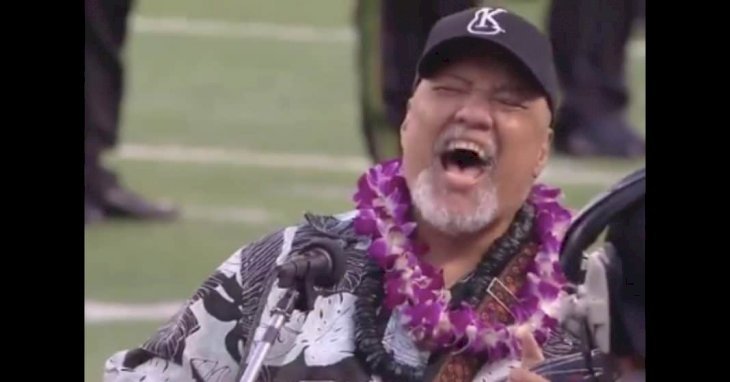 ANOTHER BEAUTIFUL PERFORMANCE
A local Hawaiian singer diagnosed with cancer, Willie K, amazed football fans after he sang his unique version of "The Star-Spangled Banner" during a game at the Aloha Stadium in Honolulu.
I can assure you you have never seen the Star-Spangled Banner performed like this before. pic.twitter.com/Rc8eO9uPid

— Timothy Burke (@bubbaprog) October 21, 2018
The man was asked to do so during the game between the University of Hawaii and the University of Nevada. Willie, who was diagnosed with lung cancer in February, stood in front of thousands of football fans with his ukulele in hand and wowed everybody.
He made sure to give a Hawaiian touch to the most important song in the US. Several people have recognized Willie's talent as he has performed with some famous artist, including Prince, Santana, ZZ Top, and Journey.