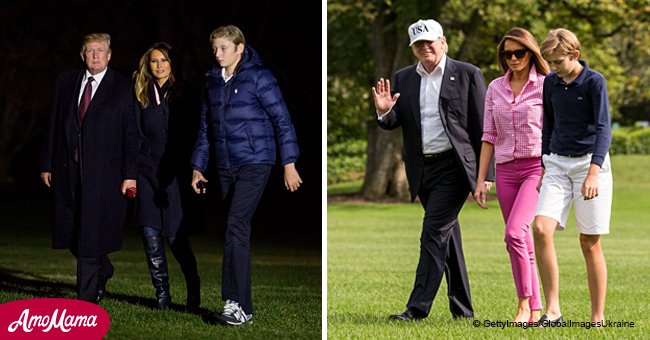 Barron Trump grows by leaps and bounds, towering over his mom Melania as they arrive home
President Donald Trump's youngest son, Barron Trump is only 12 years old but has grown taller than his mother, Melania Trump.
The sudden growth spurt was noticed by the public when the First Family arrived at Washington, D.C., from their Thanksgiving holiday vacation in Florida.
Photographers captured getting out of the plane, and as they walked side by side, Barron appears to be towering over his mother.
Last year, Barron was still a few inches shorter than her parents, but now, he seems to be approaching his father's height.
Follow us on Twitter at AmoMama USA for more details and updates.
Melania's height is 5 ft 11 in, while President Trump's is 6 ft 3 in.
The Trump family appears to be blessed with good height since all of the president's children are particularly tall.
The eldest, Donald Trump, Jr. is 6 ft 1 in, Eric Trump is 6 ft 5 in, and Ivanka Trump is 5 ft 11 in. It comes as no surprise that Barron, who is fondly called Little Donald, is growing to be a tall adolescent as well.
Apart from his height, some people seem to have noticed quite a few things about the first president's son to live in the White House since JFK Jr.
According to speculations, Barron appears to be showing traits of a child with autism.
Many known figures in the industry have questioned whether Barron has autism or not. Still, it has never been confirmed.
Experts have observed his every move since his father became the president. Perhaps they are just overanalyzing a young boy who has been guarded with his actions because he is aware that too many eyes are on him at all times.
For all we know, Barron is just apprehensive to reveal his true personality because he is still not used to being in the public eye.
Meanwhile, when President Trump, Barron, and Melania landed at Joint Base Andrews, the First Lady also gained attention for her outfit.
She wore a navy blue coat, a striking pair of red leather gloves, blue jeans, and black boots. Her hair was styled in her signature loose waves.
Apart from making headlines with her outfits, Melania recently became the talk of the media when she had a White House staff publicly fired.
Following this, Stephen Colbert had famous comedian Laura Benanti act as Melania on "The Late Show," where Benanti made a vulgar joke about President Trump's "privates."
Please fill in your e-mail so we can share with you our top stories!