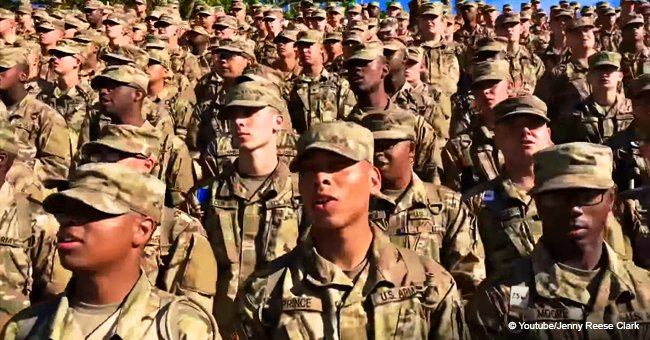 Video of 2000 soldiers praising God with powerful rendition of 'Reckless Love' still warms hearts
Last Easter, thousands of soldiers made a heartwarming memory by praising God while singing together to a beautiful gospel song that touched more than one heart, prompting some of the soldiers to "give their heart to Jesus."
The event took place at Doughboy Stadium in Fort Benning, Georgia, where 2,000 U.S Army soldiers reunited, alongside some members of their families, for a special Easter Sunday service.
Taking most of the stands and baring the bright sunshine, the brave men and women came together in a beautiful worship moment that was recorded by one lucky witness and later shared online, where it went viral.
Jenny Rease Clark took to Facebook to post a video of the memorable moment where the soldiers, led by the pastor, sang along to Cory Asbury's hit song "Reckless Love." The clip shows rows after rows of soldiers passionately singing, with some of them even raising their hands to the sky and singing with their eyes closed.
"It was a fabulous day at Doughboy Stadium on Fort Benning as roughly 2,000 Army Soldiers gathered together to celebrate the resurrection of Jesus Christ," Clark captioned the video, and continued: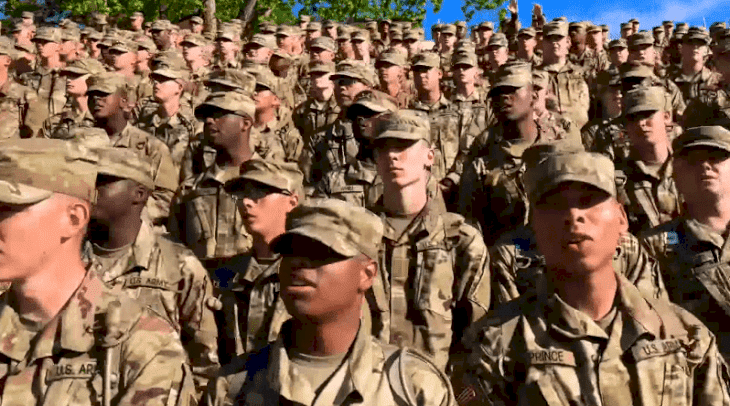 Source: Facebook/Jenny Reese Clark
"As the words of the song 'Reckless Love' by Cory Asbury were sang, the Holy Spirit moved among the crowd not just encouraging the men and women present, but causing some to give their hearts to Jesus for the very first time. #Hallelujah! There is nothing like "the overwhelming, never-ending, reckless LOVE of GOD!" #ArmyStrong #ProDeoEtPatria."
The video has earned over 250k views on Facebook and 160k more on YouTube.
Another attended took to Instagram to reveal that at least 225 soldiers "gave their hearts to Jesus" on the worship service.
People from all over the country commented the video and had nothing but love for the brave men and women that showed their vulnerability in the video.
Facebook user Esther Salinas wrote:
"Awesome!! Amazing, how God touches lives that are willing to surrender to Jesus, all it takes is to be submissive to the Holy Spirit and Give your life To God, for a Great change and for a bountiful Life of blessings with God there is always a Gain, more to earn than to Lose. Amen!!!!!"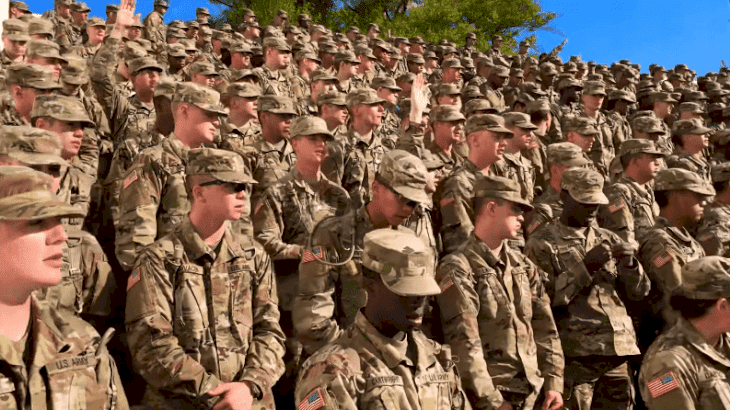 Source: Facebook/Jenny Reese Clark
And Judy Dodge Galle added:
"Impressive Resurrection Sunday service. Even in church.... look at the unity, the formation, reality. I salute the troops. Love the heart of each one. Inside we are all our own. Soldier on, to all of us. Impressive. Amen, sister! "He is risen! He has risen, indeed"!"
Please fill in your e-mail so we can share with you our top stories!