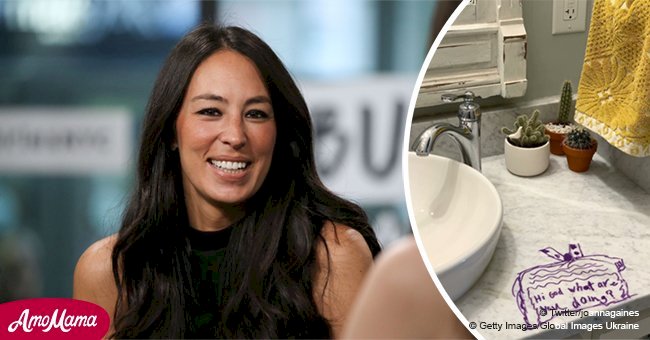 Joanna Gaines shares the sweet message to God her daughter drew on a bathroom counter
The reality star of "Fixer Upper" was in for a big surprise when she discovered a little note in her daughter's bathroom.
Joanna Gaines, a proud mother, quickly took to Twitter to share the message which 8-year-old Emmie Kay wrote with a marker on the vanity of her bathroom.
Emmie's note was a loving, private message for the God in which the young girl questioned, "Hi God what are you doing?"
Before Gaines could realize what the message was, she was worried that her daughter might have crafted something out of a permanent marker that would not come off easily. She wrote in her tweet that her "heart stopped for a second."
Follow us on Twitter to learn more.
However, she took a moment to read what Emmie had written. When she understood what the message was, she was more than happy as she quickly realized that it wasn't "the worst thing to be permanent."
Later she touched the note and figured out that it was actually written with an erasable ink. But that simple, innocent note from her daughter had already left an unerasable mark on her heart.
"Then I touched it & realized it was erasable," she further tweeted as a thread to her original post.
"I stared at her question & loved the thought of it & that that's how she talks to God. May her faith always stay childlike & may I remember what she seems to already know. That God is the most relational & most kind & always near."
Joanna Gaines, Twitter, November 17, 2018
Meanwhile, Gaines and her husband Chip, the famous "Fixer Upper" couple, appeared on a talk show earlier this month and opened up about the new project that they have at hand, following the end of the popular reality show.
Speaking to Jimmy Fallon on his show, the couple revealed that they were working hard to bringing their own lifestyle-focused television network for Magnolia.
When Fallon insisted them upon telling if the fans could ever expect their return on television, Chip casually mentioned that they had signed a "non-disclosure," which did not allow them to reveal the details of it.
Gaines also recently opened up about her iconic "shiplap-covered Waco, Texas farmhouse," where she and Chip have been living for over five years.
Although many people have expected the designer to want to move to a new, and larger, household to accommodate her "ever-evolving style" as well as her growing family, Gaines herself revealed that the farmhouse might as well be their forever home.
Please fill in your e-mail so we can share with you our top stories!