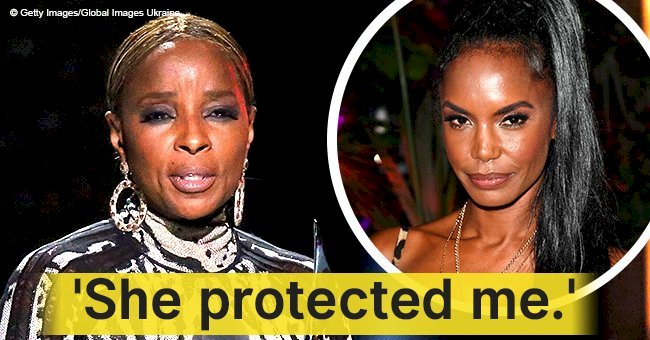 Mary J. Blige breaks down in tears during eulogy at close friend Kim Porter's funeral
Kim Porter's funeral was heart-breaking for her friends. Especially Mary J Blige, who broke down in tears while giving a eulogy at her funeral.
Mary J. Blige had been friends with the mother of Diddy's children, Kim Porter for a long time. She attended Porter's funeral and eulogized her friend during the service over the weekend.
In her tear-jerking eulogy, Mary J. Blige revealed that she believes Kim Porter tried to protect her from walking down the aisle into a doomed marriage. She said she did not realize at the time that Porter had been laying down all the warning signs for her.
The "No More Drama" singer said, "Kim was always a protector, adding, "She protected me." Blige went on to tell a story about meeting up with Diddy and Porter on a yacht before her 2004 wedding to Martin "Kendu" Isaacs. She revealed that Porter had questioned her about her marriage.
According to the singer, Porter asked if she was ready to walk down the aisle. Blige admits "I think about those questions now." Blige was involved in a very public, bitter divorce with Isaacs that nearly ruined her financially.
Blige was unable to hold back her tears. While speaking, she began to cry.
Blige eventually broke down and said, "I just saw you two weeks ago. I was just dancing with you."
Kim Porter's memorial service was held at Cascade Hills Church. She was buried in a gold casket at the Evergreen Memorial Gardens cemetery alongside her grandmother and mother.
The ceremony was attended by approximately 1,200 to 1,500 people. The attendees included many celebrities.
The celebrity list included Nene Leakes, Kandi Burruss, Lil Kim, Toya Wright, Mary J. Blige, Kimora Lee Simmons, Stevie J, and Faith Evans. Evans also sang at the funeral.
Sean "Diddy" Combs, Porter's ex-boyfriend who she dated off-and-on for 13 years, gave an 18-minute long eulogy. Before the funeral, he posted a message on Twitter to thank everyone for their prayers and support.
The Porter, Goodwin, and Combs families also sent a public statement to The Associated Press on Friday. They said:

"God broke the mold when he made Kim, there was truly no other woman like her. Although her time here on earth was far too short, she lived a life full of purpose and meaning. She was a loving mother and devoted friend. She was the epitome of kindness and grace. There wasn't a person she met who's (whose) soul she did not touch. Kim was the type of woman who changed lives for the better," they said. "She will be forever remembered and missed by so many. As her family, we promise to honor her every day of our lives. We love you always."
She will be remembered by her four children, Quincy Brown, Christian, 20, and 11-year-old twin girls D'Lila Star and Jessie James.
Please fill in your e-mail so we can share with you our top stories!