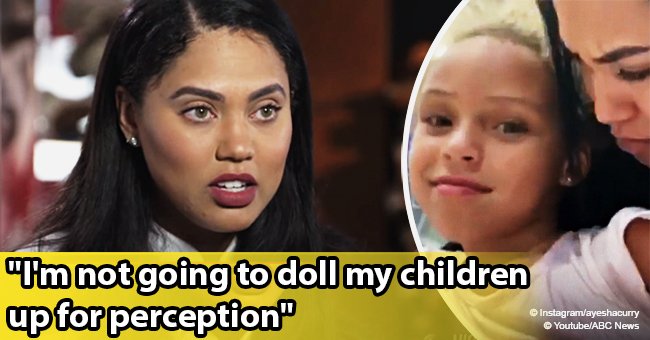 Ayesha Curry fires back after being dragged for not brushing her daughter's hair for a video

Ayesha Curry, the celebrity chef and wife of NBA professional player Stephen Curry, took to Instagram to share a video "being silly" with one of her daughters, Riley.
In the clip, both ladies were re-enacting a Progressive "Meat Sweets" commercial using Dubsmash, an app that the 29-year-old mother has used with everybody from Stephen to Michelle Obama.
While most people considered that it was a funny clip, one user blamed Ayesha for not brushing her six-year-old daughter's hair. "Lawwd have mercy, whyyy don't you know how to brush them girls' hair??? Drives me nuts!!! [sic]," said the critic.
THE DEFENSE
Soon after that, several followers defended Ayesha, something that she later proved it was not necessary. The proud mother tagged the hater and set clear that she didn't make moments happen for social media.
"Moments happen and I sometimes share. I'm not going to doll my children up for perception or anyone's approval on here. If that's what you want to see then this is not the page for you. Real life over here," wrote Ayesha.
Stephen and his wife have welcomed three children to the world so far: daughters Riley and three-year-old Ryan, and four-month-old son Canon. Recently, the chef set clear that she and her husband try to "keep the spark" alive in their relationship.
THE DATE NIGHT
Ayesha took to Instagram to share the outfit she would wear for her date night. However, the highlight of the post was not her clothes but Ryan, who was holding tight her mother's leg, preventing her from leaving.
In the caption, the proud mother wrote, "My Ryan says NO date night LOL. I almost stayed home." The girl's face showed that she was really worried about her mother leaving, something that made the post even more adorable.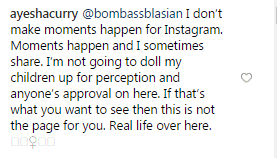 Source: Instagram/Ayesha Curry
Considering how hands-on the Currys are with their kids, it's no surprise Ryan doesn't want to be left out of the fun night. The truth is that parents should have their time to go on dates to keep things fresh in the relationship, especially when one of the members (Stephen, in this case) is traveling the country that much.
At the moment, Stephen is recovering from an injury that has kept him away from the courts for a while. Thankfully for the Golden State Warriors, he is expected to be back on November 29, reported Sporting News.
Please fill in your e-mail so we can share with you our top stories!