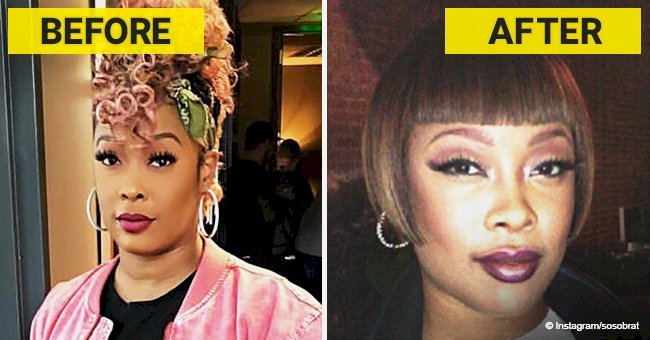 Da Brat heats up the talk by showing off her new bob hairstyle in recent photo
Da Brat has been known to experiment quite a lot with her. We've seen her in cornrows, afro puffs, and crotchet locs, but now she looks almost unrecognizable in a very short bob.
The "Funkdafied" rapper shared a photo of herself looking glamorous in the new hairstyle. The bob featured sharp-cut bangs that stopped just above her eyebrows, and Da Brat also wore makeup – a fierce, smoky eye, purple eyeshadow, and matching lipstick.
"Yep. Same ole G!" she wrote, probably expecting folks to do a double-take when they see the picture.
"I hope they stay fascinated with my sexuality because that's something that makes them wonder."
The Shade Room shared the same image on their Instagram page and asked: "Y'all feeling it, #Roomies?"
FAN REACTIONS
As expected, social media users had something to say. Some were nice, others were indifferent, but several commenters were downright mean:
"She look like that cat with the watermelon on its head."
"I have a feeling this is gonna become a meme."
"Mmmhhh maybe if the bob was a bit longer with a side part instead of bangs, but I'm here for the switch up."
HAIR EXPERIMENTS
The 44-year-old "Dish Nation" co-host has always been particular about her hair. As a natural hair icon, she's mostly known for the braids that complement her "tomboy" style but has been experimenting in recent times.
Last year, the "Glitter" actress had a nasty experience with crochet locs which ended up damaging her hair edges. In an Instagram post, she admitted using an unprofessional hairstylist.
"In my last posts my hair was crochet locs. But unfortunately, they were put in poorly and unprofessionally as I sat from 10am to 8pm getting my hair done. Then as I took them out I realized my own hair had been CUT to prevent it from poking out of the crochet locs that were already pretwisted. NOT A HAPPY MOMENT."
SEXUALITY SPECULATIONS
Earlier in 2016, she switched up her cornrows with coppery blond Afro puffs that made her look more feminine than usual. Apart from getting a new look, that switch also probably heightened uncertainty about the entertainer's sexuality.
There have been rumors of her dating an array of men and women, and Da Brat is in no hurry to clear up the speculations. In a 2011 interview, she insisted:
"I hope they stay fascinated with my sexuality because that's something that makes them wonder. I probably will NEVER answer that question to make people keep on wondering."
PRISON & BANKRUPTCY
Her sexuality may remain a mystery, but her financial situation became public knowledge some months ago after she filed for bankruptcy. The "What Chu Like" singer is neck-deep in debt after the court awarded over $6.4 million in damages to the woman she assaulted in 2007.
Da Brat was sentenced to three years in prison for the altercation and was released in 2011. Two months ago, she celebrated the end of her 7-year probation with a prison-themed party attended by Jermaine Dupri and her half-sister, actress Lisa Raye McCoy.
Please fill in your e-mail so we can share with you our top stories!