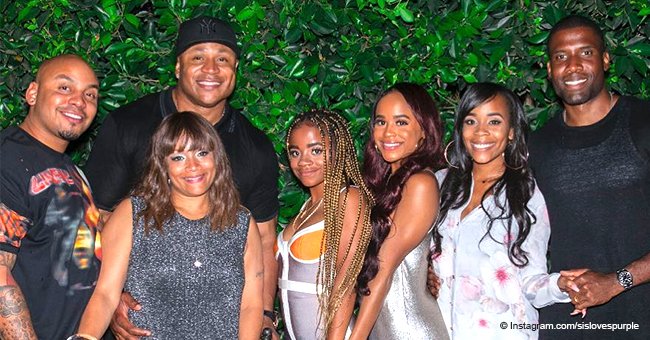 LL Cool J and wife are all smiles in picture with their children on Thanksgiving
LL Cool J and his wife Simone Smith had a blast with their kids on Thanksgiving, and they made sure to share their happiness with fans on Instagram. The couple recently celebrated their 23rd wedding anniversary, asserting their place as one of the long-lasting couples in the entertainment industry.
It was a family affair for LL Cool J, as he celebrated the beginning of the holidays with his beautiful wife and their four children: daughters Italia Anita, Samaria Leah and Nina Simone, and son Najee. The whole family posed together for a photo, with Samaria's Italia's husband Lamar Cardinez on tow.
The family portrait, shared on Instagram by Simone, shows the matriarch of the family donning a grey dress, with LL Cool J hugging her from behind and rocking an all-black ensemble. Najee, 29, went for a simple black t-shirt and jeans, while Nina, 17, went for a color-block tight mini dress.
Samaria, on the other hand, donned a sparkly silver long dress, and her older sister, Italia, kept it casual with a floral outfit as she held her husband's hand, who was wearing an all-black outfit, just like his father-in-law.
"Our FAMILY... A Circle Of Strength, Founded on Faith, Joined In Love, Kept By God. #sothankful #sograteful #happythanksgiving," Simone captioned the pic, in which all of them have big smiles on their faces posing in front of some bushes.
FANS' REACTIONS
Fans found the pic adorable, with some calling the Smiths "Family Goals" and filling the comment section with love and blessings:
"I see a beautiful, strong BLACK family. The modern day Cosby show - I LOVE IT!!!!!" - @pdonald09
"Such a beautiful family. May God forever keep you all." - @pamselitetreasures
"Smith Dynasty Happy Thanksgiving love you more." - @mrs.rich07
A few months ago, Simone and LL Cool J celebrated their 23rd wedding anniversary, and she celebrated by posting a throwback pic from their young days, accompanied by the lyrics of "Candy Girl," a song that LL Cool J wrote for her back in the '90s.
They met as teenagers and have been together since then, but not everything has been joy in the family.
IN THE GOOD AND THE BAD
In 2004, Simone was diagnosed with a rare form of bone cancer known as chondrosarcoma. She had to go under several surgeries that left her bedridden, as she had to learn how to walk all over again. Her husband chose to sacrifice his career to be with Simone in every step of the way, putting his professional on hold while being the number one support for her.
"You don't abandon someone in that foxhole, you know," the actor and rapper revealed in an interview with Oprah. "You got to be there in that foxhole with them. So I made some decisions professionally and decided to be by Simone's side during that period."
Smith released a new jewelry line earlier this year in partnership with Mary J. Blige and showing her huge advocacy to raise awareness and money for cancer research, a part of the profits earned by every piece sold goes to the American Cancer Society.
Please fill in your e-mail so we can share with you our top stories!