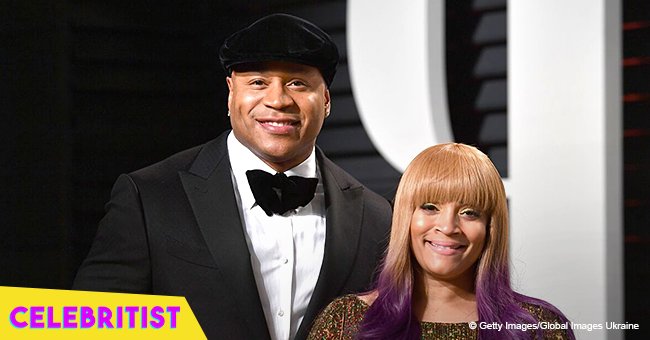 LL Cool J poses next to beautiful wife who stuns in purple dress in pic

LL Cool J and his wife Simone Smith are dressed for a hot night. They've been married for 23 years and yet they look blissfully happy attending a themed party in coordinated outfits.
They just celebrated 23 years of marital bliss last month and LL Cool J and his wife Simone Smith can still rock a costume party as a recent photo of theirs proves.
LL Cool J's name stands for "Ladies Love Cool James" and while ladies did love him in the past, he only had eyes for one woman, his wife. Since meeting in the early 80's through a friend, the couple had kept their eyes on each other, thanks to their commitment to staying together despite hitches along the way.
The couple who were married in 1995 after eight years of dating have four children and a grandson. And though they're grandparents, they're probably the coolest ones to date.
Both fashionably hot, they manage to turn heads with their mere presence. Last year, Simone still drooled over her husband when he posted a photo of him shirtless. In the comments section of LL's post, she wrote,
"You so honey coated Mr. Smith."
Simone is likewise a sight for sore eyes which is why she'll forever be her husband's "candy girl," as inspired by the song he dedicated to her back in 1998 titled "Candy."
And with both accomplished in their respective careers –LL is a rapper, producer, actor, and activist while Simone is a celebrated jewelry designer, entrepreneur, and philanthropist, they're the picture of a power couple with decades of foundation to lean on.
Yesterday, the couple showcased their strength as a team when Simone shared a photo of them in coordinated Havana-inspired outfits. Simone revealed they were attending the 50thbirthday of their friend Tamiko and they made sure they responded to the event's theme.
Simone was dressed in a purple dress that shined as the light hit it. She wore a colorful turban on her head as she allowed her long braided hair to rest on her shoulders. Her husband cleaned up nicely in a grey and white floral shirt he accessorized with gold necklaces and a white hat. The rapper even carried a cigar in his hand to channel the Cuban vibe.
"Hot Havana Nights w/ Poppa Luv it," Simone wrote to accompany the snap and she was right about one thing, they both looked hot. It's one thing to rock the outfits, but it's another to look great together. That's exactly how they registered in the photo.
This is not the first time the longtime couple showcased their flair for coordination. Last month, they wore matching colorful outfits to commemorate their anniversary. Looking like teenagers in their printed pants and top, the couple proved 23 is more than just a number. It's a symbol of their unbreakable bond and their harmonious relationship with a promise of more years together.
Please fill in your e-mail so we can share with you our top stories!