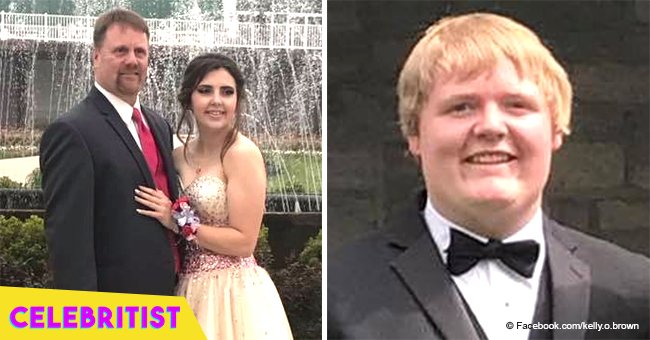 Story of dad who took his late son's girlfriend to prom after the teen died in car crash went viral
Carter Brown was traveling from Indiana State University to his hometown in Mercersburg, Pennsylvania to surprise his girlfriend, Kaylee Suders.
Unfortunately, the car he was traveling in crossed into the opposite lane of traffic and, after hitting two vehicles, he died. Kaylee was devastated after that as the couple had been together for a year already and Carter was traveling home to surprise her.
The 18-year-old lady, who was supposed to attend her prom dance with Carter, was so depressed that she decided to skip the once-in-a-lifetime experience. Knowing that she would regret that decision for the rest of her life, Carter's father stepped in.
MAKING HER ENJOY THE MILESTONE
Robert, Carter's father, consulted with the school's director if it was okay to invite Kaylee. The man later asked Kaylee to go with him, and the lady immediately accepted.
She revealed that it was not necessary for her to think about it and that the fact that Robert took Carter's role for that night "meant a lot" because "it was my senior prom and I didn't want to go anymore."
DOING WHAT CARTER WOULD HAVE DONE
On prom night, Kaylee put on a light princess-like dress and waited for her late boyfriend's father to pick her up. Just as if he was his prom date, Robert put on a suit and tie, put a corsage on the lady's wrist, and took photos with her.
One of the aspects that attracted more attention was that they printed a big photo of Carter and took a couple of pictures with it between them. "Rob, thank you so much for making my senior prom as great as it could have been," said Kaylee.
About Robert's decision, Kelly, his wife, said: "I think it's really sweet and wonderful and says a lot about Kaylee's relationship too, that she wanted to go with him. It speaks to how much she is a part of our family and how much we love her."
DIGGING INTO ANOTHER PROM STORY
Kaylee and Robert are not the only people who attracted a lot of attention on social media after their prom story went viral. Madison and Tre Booker made Twitter headlines after the lady posted their prom photos and someone shared unpleasant comments regarding her weight.
Tre Booker quickly stepped in and defended his girlfriend, saying that Madison was not fat, that she was perfect, and that God made her just for him. Soon later, their photos and tweets went viral as people couldn't stop praising their relationship.
Please fill in your e-mail so we can share with you our top stories!