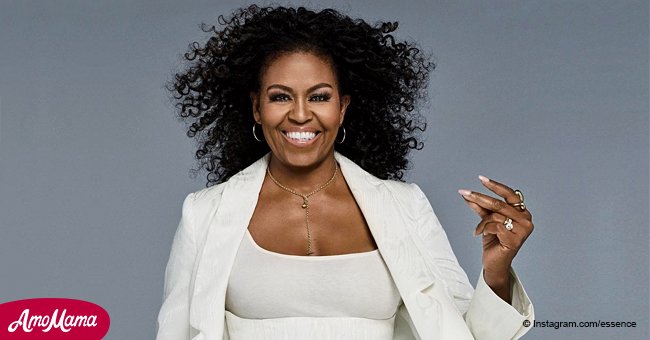 Michelle Obama's hairstyle reflects her natural beauty by showcasing the spiral texture

Michelle Obama's fans love the former First Lady's new look.
Throughout her stint at the White House, Michelle Obama always wore her long dark hair smooth and straight, with never a glimpse of a natural curl.
Now the former First Lady can be seen on the cover of the December issue of Essence Magazine sporting her naturally curly locks, and she looks beautiful, according to TheZoeReport.com.
"It definitely was a moment — and still is a moment — for Mrs. Obama, the former First Lady of the United States and the first Black First Lady of the United States to be on the cover of a major publication with her natural hair."
Yene Damtew, TheZoeReport.com, November 28, 2018.
"BECOMING" HER NATURAL BEAUTY
According to Yene Damtew, Michelle Obama's hair stylist, the former First Lady made a deliberate decision to showcase the natural spiral texture of her hair.
Michelle had been photographed before with her hair in curls on holidays but never had a formal photograph been published of her mane au natural.
"BECOMING" A ROLE MODEL FOR YOUNG BLACK WOMEN
In her memoirs, "Becoming," Michelle revealed that as a young girl she never saw women who looked like her in the media or entertainment industries. She wants to show young black girls that women just like them can be successful and glamorous.
Michelle had been photographed before with her hair in curls on holidays but never had a formal photograph been published of her mane au natural.
STYLING HAIR LIKE MICHELLE OBAMA
Dametew who worked as an assistant to the First Lady's former hairstylist Johnny Wright at the White House revealed that Michelle had stopped using chemical processes to straighten her curls:
"I knew that styling hair without chemicals was what I wanted to do. I had clients, such as Mrs. Obama's family, and was able to showcase that it's possible to train your hair to do anything you need it to do."
Dametew revealed that she used a combination of heat styling and finger curls to create Michelle's tousled mane.
It is interesting to note that most Black American celebrities, singers and actresses straighten their hair and are very seldom seen with their hair in their natural state. Michelle Obama may well be starting a trend that will revolutionize beauty concepts for Black women
Read more on Twitter Amomama USA.
"BECOMING" IS A BEST SELLER
Even though Michelle Obama's memoir "Becoming" was only released on November 13, 2018, it has already sold 1.4 million copies in its first two weeks.
"Becoming" sold more than 725,000 copies on its first day, outselling Hilary Clinton's "Living History" which sold 600,000 copies in the first week.
Crown Publishing had printed 3 million hardcover copies for the book's debut in North America, and are now likely to sell out by the end of the year.
"Becoming" is currently the best-selling adult nonfiction title in the United Kingdom, Germany, France, Holland, Spain, Denmark, and Finland.
Please fill in your e-mail so we can share with you our top stories!