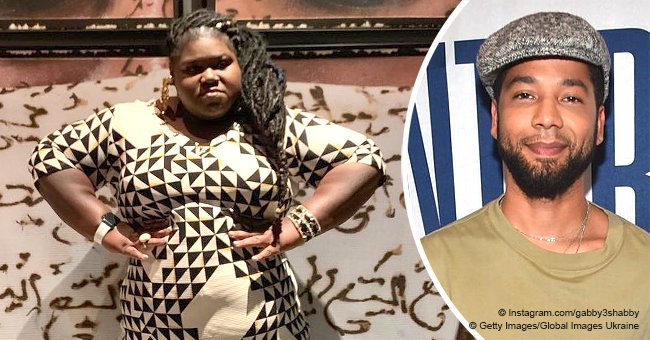 Gabby Sidibe flaunts slimmer curves in figure-hugging dress in pic shot by Jussie Smollett
Gabby Sidibe is rocking her curves in a stylish outfit as she poses for best-friend Jussie Smollett in a new Instagram pic. The "Empire" co-stars are considered "#FriendShipGoals" by fans, as they flaunt their amazing bond all over social media.
Gabby Sidibe looks stunning in a body-hugging, geometrical printed, black and khaki dress, as she poses in front of a photo of a middle eastern woman's eyes for one of her recent Instagram pics.
Sidibe gave her best pose to the camera, with her hands on her slimmer waist and looking to the side, as her bestie, Jussie Smollett, probably encouraged her from behind the lens.
"@jussiesmollett said "Hold UP! Gimme yo phone," she captioned the pic. Fans immediately took over the comment section to gush about the pair and their amazing friendship, all while praising Gabby and her slimmer curves.
"This dress is everything on you! Giving me life this morning! Yes, Ma'am!" - @poetistry
"I hope u and @jussiesmollett are really bff's because u have great "chemistry." - @sldeese
"I see that Waistline and hips coming on through." - @essieland
"@jussiesmollett I love your friendship with @gabby3shabby hope y'all have your sleepovers in your onesies." - @hamajestie
FRIENDSHIP GOALS
Gabby and Jussie not only have epic scenes as their characters, Jamal and Becky, on "Empire," they also spend most of their time off-camera together, dancing the night away, taking cute pics of each other, cleaning their houses and being fabulous in general.
Just a few days ago, Sidibe shared a pic of a cute orchid arrangement that Smollet sent her, and she had to show off about in the caption, that read:
"Sugar Zaddy @jussiesmollett sent me an orchid with a lil stuffed animal, wearing African earrings. Your jealousy is natural, and welcomed."
Smollett is constantly showering Sidibe with love and appreciation. Three years ago, Jussie wrote the song "You're So Beautiful" using Gabby as his inspiration. Speaking to Entertainment Weekly, he said of the song:
"You're So Beautiful' is one of my favorite songs this season. […] The lyrics were actually inspired by Gabby Sidibe. She's confident, sexy, and owns exactly who she is, but every now and then… you just need to simply hear the words, 'You're So Beautiful.'"
In three years, Sidibe's confidence has only grown exponentially now that she's rocking a slimmer figure after going under a laparoscopic bariatric surgery in 2016.
BODY GOALS
Gabby evidently enjoys the praises about her new looks; she has made clear that people that overdo it and congratulate her on her weight loss are annoying and even disrespectful in her eyes. "It doesn't rock me. It just annoys me because I'm just like, don't congratulate me on that," she told Refinery 29 last year, and continued:
"It seems ill-placed. I don't need your support. That's weird to me because my body will always be my body and always had been, and you have nothing to do with it, and you're kind of a stranger."
The 35-year-old "American Horror Story" star also revealed that she started to work on her confidence as a teenager, after reaching the point of exhaustion from hearing people criticizing her looks.
"I really sat down and made a list of all the things I liked about me: My personality, my face, my body. The world will hand me a hate list. And I just sat down, and I developed a love list for myself," she said, as she encouraged other people to do the same.
Please fill in your e-mail so we can share with you our top stories!