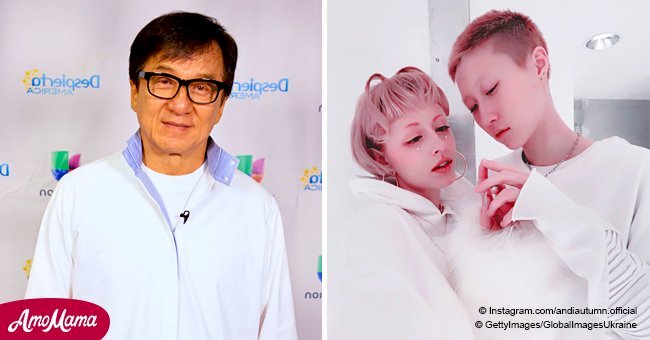 Jackie Chan's estranged daughter marries her girlfriend after claims about 'homophobic parents'
Jackie Chan's love child got married to her girlfriend and both wore hoodies. Not too long ago, Etta accused her parents of leaving her homeless due to homophobia.
Etta Ng Chok Lam shared photos and videos of her unusual ceremony which took place earlier this month. She and Canadian Andi Autumn held their wedding in Toronto before flying off to Hong Kong.
Pictures showed the two wearing white hoodies in a white and grey colored location. Etta, 19, wore a white veil towards the back of her short blonde locks.
The lesbian teen was fathered by the famous actor when he had an affair with Miss Asia 1990 Elaine Ng Yi Lei in 1999. At the time, Chan was married to his wife Joan Li. The two share son Jaycee Chan, who is 35.
According to the Daily Mail, Etta's union will not be recognized by the Chinese government, which may explain the reason they chose Canada to wed.
Etta captioned an Instagram photo of the occasion:
"United by love and law on our wedding day. We have all been hurt, but if you can dream of love you will find it."
"@ettazen has given me the gift of being my true self and it's so hard to explain the change I feel...My whole life I thought I was toxic, she made me realize I was surrounded by negativity. Now that it's gone, this new feeling has taken over and I now know I deserve just as much as the world has to offer."
The "negativity" that Etta referred to may be the reaction of her parents when she came out as gay last year. The young woman blamed her parents for her and her partner's homelessness.
"Hi I'm Jackie Chan's daughter and this is my girlfriend Andi. We've been homeless for a month due to homophobic parents. We pretty much slept under a bridge, and other things."
Etta's reference to her father comes with irony since she has previously insisted the two do not and will not have a connection. She said Chan is her biological father but not "her real dad."
Still, she found it fit to reference him when asking for help in a video with Andi.
Etta's mother reportedly said of the matter:
"They should not release a video telling everyone that they have no money and who her father is. All over the world people work hard and do not rely on someone else's fame to acquire money."
In addition, when asked about his daughter's coming out while filming "Foreigner," Chan appeared to accept her as she is.
"If she likes it that's fine."
Back in April, Chan's other child Jaycee was in the spotlight when he spoke about his history of drug abuse. Almost a year prior, he had gotten arrested on a drug charge.
The 35-year-old was jailed for six months. The sentence was a light one thanks to his compliance with the police. Jaycee said in a statement:
"I am here to offer my apology to the public for my mistakes. I'm truly sorry. From now, I must live the life of a lawful citizen."
Reportedly, Jaycee's parents did not visit him while he was in prison. We hope the family is able to move forward positively as they face their struggles.
Please fill in your e-mail so we can share with you our top stories!