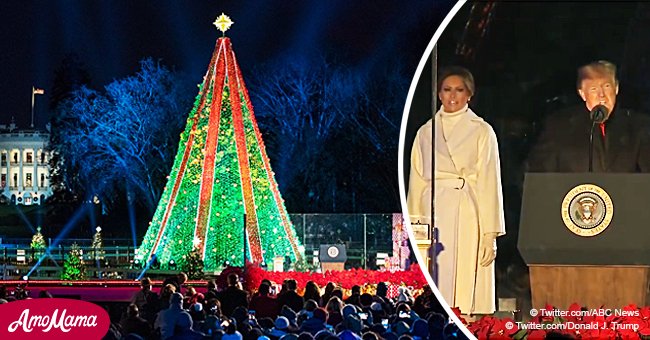 President Trump and First Lady Melania light National Christmas tree in a heartwarming video
The National Christmas Tree was lit on Wednesday evening during a ceremony in President's Park, south of the White House. President Donald Trump led the countdown to his wife lighting up the enormous tree.
The White House took to Twitter to post a video of the memorable moment. Many attended the event including members of Trump's administration and his children.
President Donald Trump wished the nation and the world a Merry Christmas during the lighting of the National Christmas Tree. He stated:
"Today's a day that I've been looking very much forward to all year long. And now, as the president of the United States, it's my tremendous honor to finally wish America and the world a very merry Christmas."
For more on this story go to our Twitter account @amomama_usa. During his speech he added:
"Merry Christmas, everybody. We just have to say it all together: Merry, Merry Christmas."
The president then began a countdown to have the tree lit. His wife First Lady Melania Trump had the honor to hit the switch to illuminate the tree after a countdown from 10 to 1.
This is the 96th year for the presidential tradition. The ceremony included musical performances from LOCASH, Spensha Baker, Gabby Barrett, Abby Anderson, and others.
At one point, the president took a moment to recognize the victims of disasters that had happened across the country this year. He stated:
"Our thoughts turn to those who are rebuilding their lives after devastating wildfires, destructive hurricanes and terrible tragedy. We are one American family, and we hurt together, and we heal together, and we will always pull through together."
He also honored the foster families who were in attendance, first responders, as well as members of the military and their loved ones. Donald declared, "Their families are all our families."
His children Donald Jr. and Tiffany, daughter-in-law Lara Trump, his son's girlfriend, Kimberly Guilfoyle, White House counselor Kellyanne Conway, and Interior Secretary Ryan Zinke were all in attendance. The National Christmas Tree is a living Colorado blue spruce which was surrounded by 56 smaller trees which featured ornaments from every state and territory including the District of Columbia.
On Monday, Melania revealed the Christmas decorations at the White House, but social media users mocked the "American Treasures" theme. The all-red Christmas trees she chose for the East colonnade were the subject of jokes online.
However, on Wednesday, the first lady defended her choice calling them "fantastic" and "beautiful."
Please fill in your e-mail so we can share with you our top stories!