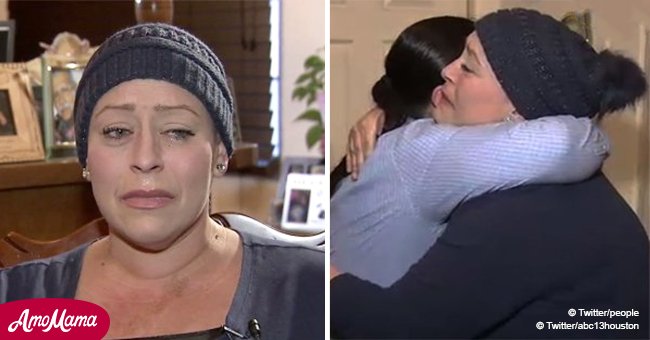 Leukemia-stricken woman pregnant with twins finds perfect donor match after story goes viral
On November 22, Susie Rabaca's story went viral on social media as she made a plea for a bone marrow donor. The Southern California woman found out she was battling leukemia after she became pregnant with twins.
Luckily, her online plea reached many people and she's since found the perfect donor match. Her mixed ancestry had made it difficult to find a perfect match until now.
Susie Rabaca, 36, has finally found her perfect match for a bone marrow transplant. The mother of three was diagnosed with an aggressive form of acute myeloid leukemia just a few months into carrying her twins.
She found out that she needed the transplant in order to survive. However, she couldn't find a match on the registry because of her half-Latino and half-Caucasian ancestry.
For more on this story go to our Twitter account @amomama_usa. Rabaca took her plea to social media and asked people to register on Be The Match so she could have a chance at finding the right person.
Thousands of people reacted with some choosing to share her story while others got tested to see if they were a match. On Wednesday, she revealed that a person with just the right genetic makeup has been found.
She said:
"Oh my god, to me it's beyond amazing… joy and happiness, it really is. It's so exciting, it's the best Christmas gift."
The mother of three added:
"For me to find one and for it to be 10 out of 10 at that is amazing. Nothing better in the world right now."
However, more tests are needed before doctors can do the procedure. For now, Rabaca will focus on her twins' impending arrival on December 6.
Her hope is that she can undergo the transplant after their birth. The mother of three was desperate for help because the type of cancer she has starts in the bone marrow and often moves to the blood.
Despite 30 million people being registered on the worldwide registry, Rabaca couldn't find a single match with a similar DNA or ancestry. Singer Carrie Underwood was one of the people who retweeted her story.
Rabaca received the devastating news during the early stages of her pregnancy. She explained: "I started feeling sick and went to the doctor -- and found out I had leukemia."
Her sister got tested for the procedure but found out she was a 50 percent match and Rabaca needed a 100 percent match.
Please fill in your e-mail so we can share with you our top stories!