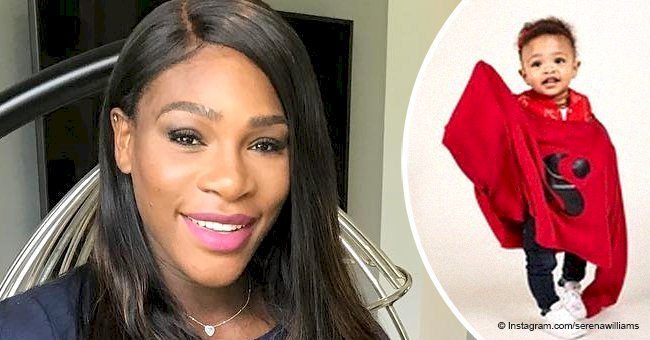 Serena Williams' daughter poses in $85 extremely oversize 'Serena' sweatshirt in recent pics
Who needs paid models when you have a cute daughter? Serena Williams recently introduced the new model for her clothing line, and it's none other than the adorable Olympia Ohanian.
Cyber Monday was on November 26 and businesses across the world went heavy on ads and promotion for lower prices and unbelievable deals.
"Serena," the fashion brand owned and designed by Tennis Champion, Serena Williams, was not left out. To advertise the occasion, Serena took to Instagram with photos of her one-year-old tot in an oversized red sweatshirt, black jeans, and white sneakers. The little model even had a red headband to match her "purchase" from momma's line.
Along with the photos was a hilarious caption that read:
"When you shop CYBER MONDAY at momma's @serena warehouse. I know I can fit it soon. Go shop @serena- we ship worldwide."
Social media users could not get enough of the latest "Serena" model, and they shared their thoughts in the comments:
"Wow you have your own model very nice she is very good."
"OMG.....born for greatness and blessings! Soooooo cute. Go head baby girl do your thing."
"Now that is just cuteness overload!! I like the sweater too. Does it come in different colors?"
Serena, 37, recently revealed that the one thing she doesn't love about being a mom is having to be away from her daughter.
"The only thing I don't love about being a mom is, come 7:30, Olympia's in bed and I get sad," she said. "I'm like, 'Should I go to bed?' Because then if I wake up, I get to see her again."
For a mama that enjoys spending time with her daughter, the Cyber Monday photo shoot must have been a thrill -- a perfect extension of mommy-daughter time.
But despite being one of the world's greatest athletes, there are times when Serena has had to concede defeat to her curly-haired baby. Last month, she took to Instagram with a photo of her toy-strewn living room.
She's a 23-time Grand Slam singles winner, but Serena had to admit:
"Sometimes I have to throw my hands up in the air. #thismama used to have a living room. Now I just have a playroom. When did that happen?"
Messy room or not, Serena would rather spend time with Olympia, who is turning out to be her favorite person in the world. Her Tech mogul husband, Alexis Ohanian may have some serious competition because as the Wimbledon mama said in a recent post,
"5 mins with @olympiaohanian is worth more than any achievement I have ever had."
Please fill in your e-mail so we can share with you our top stories!