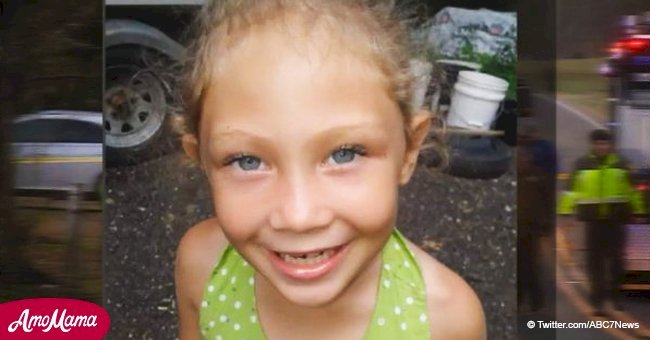 Comatose 7-year-old girl fighting for her life after being hit by a truck on her way to school

A Bryantown girl was hit by a truck as she got off the school bus just in front of her home. She was crossing the street when it happened.
Skyla Shirriel, seven, was struck by a Ford F-250 pickup truck according to Charles County Sheriff's Office. She was heading home from school on Tuesday.
According to ABC News, the Charles County Public School bus had its red lights and stop sign activated at the time. It was dropping students from T.C. Martin Elementary School off to their homes.
Follow us on Twitter for more @amomama.
Disaster struck at about 3:45 p.m. when a driver rolled through. The female driver, 35, remained at the scene. She is now being investigated and may be charged.
Shirriel was taken to the Maryland hospital via an airlift. As of Thursday night, she was still at the hospital under a medically-induced coma.
Family friend and housemate Mike Wathen spoke to WJLA. He said someone who was there told him that his boys nearly became victims themselves.
Tearfully, he said:
"The other three little boys were pretty shook up. They had a tough time last night. They just had questions about what happened to her. They all saw it."
Many others are noticing the rising instances of bus stop violations. Reports show a figure of 3,812 so far for the year.
Another bus driver, Joselyn Brown, is outraged. She said:
"Just stop! Stop when you see the yellow lights even. Slow down! Stop! Somebody's child is gonna get hurt just like what happened yesterday."
A similar event occurred in Rochester, Indiana in late October. It led to the death of three children and injury to a fourth.
The children, twins Xzavier and Mason Ingle, 6, and Alivia Stahl, 9, were boarding the bus to go to school. The school bus' stop sign arm was out.
Yet 24-year-old Alyssa Shepherd did not heed the alert. She caused immediate death to the three children. 11-year-old Lowe was injured and airlifted to Fort Wayne Hospital.
Shepherd is married with two kids of her own. She was charged with three counts of reckless homicide and one count of passing a school bus which led to a bodily injury.
Please fill in your e-mail so we can share with you our top stories!