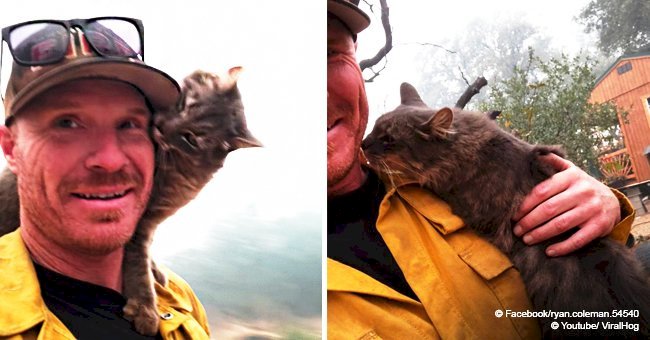 Touching video of a cat that refused to leave the firefighter who saved his life

Love comes in different colors and species. You'll understand better after seeing this heartwarming video of a cat that refused to leave the side of the firefighter who saved his life.
A cat became stuck on firefighter Ryan Coleman after the latter rescued it from Paradise, one of the many sites of the California fires.
Over 250,000 people had to be evacuated and close to 80 died as a result if the natural disasters, but animals have also been affected by the devastating forest fires.
When Coleman, an engine captain at Fairview Valley Fire Department, came across the cuddly feline, he did everything to save his life.
Coleman's action won him a close pal, and in no time, the two developed an inseparable bond, literally. The cat refused to leave his hero and went everywhere with him.
Coleman shared one of their interactions in a short clip on Facebook. The footage shows the cat perched on the firefighter's shoulders as they survey the devastation caused by the fires.
Not once does he stop purring and rubbing against Coleman's neck, an undeniable sign of affection and appreciation. You can't help but imagine that this cat is trying to show gratitude to Coleman.
The firefighter has also been hailed as an exemplary officer who not only does his best to rescue human lives but is also concerned for any endangered animal he encounters.
Coleman's video was also shared on YouTube with a caption that explains what eventually happened to the cat:
"After I posted a video of the cat, I was contacted by the owner who requested that we leave it in the care of their neighbor and not bring it to one of the animal shelters. They identified specific things about the property and area from the video so I deemed they were the true owners of the cat. So, the end result was the cat was left in the care of their neighbor."
HERO'S WELCOME
Like Coleman, firefighter Mike Thawley rescued a sick puppy and ended up winning himself a new friend. Thawley took the puppy, called Chunkie, to an animal shelter facility where she was fed and given the necessary medical treatment.
But Chunkie remained unhappy, and no one knew why until Thawley visited the next day. Chunkie suddenly perked up, and a clip of her reaction upon seeing the man who rescued her went viral immediately.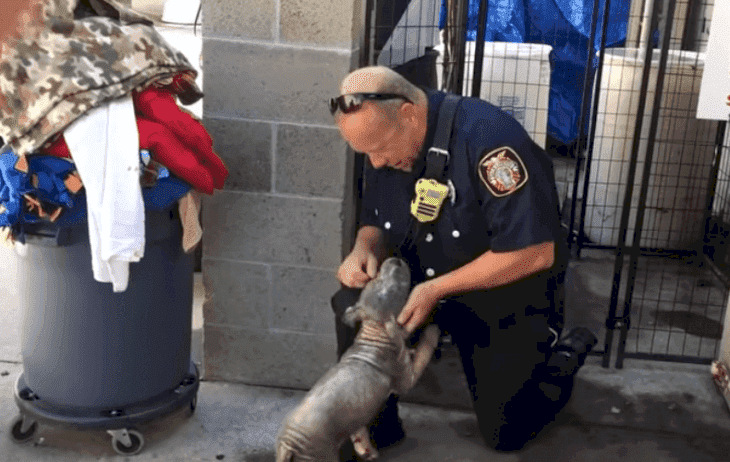 YouTube/AJ 23 Plasquita ssgb
Catch up on the rest of Thawley and Chunkie's story and watch the emotional video here.
Please fill in your e-mail so we can share with you our top stories!