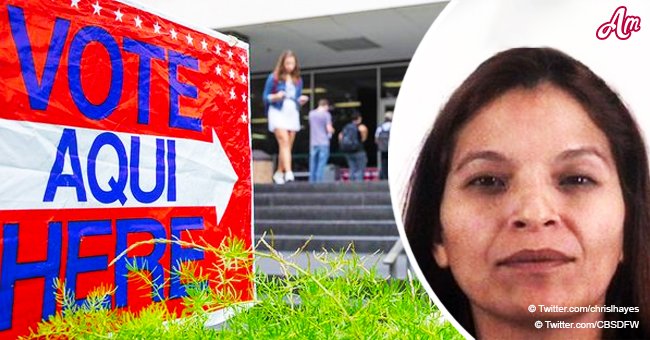 Woman with a green card gets 8 years jail sentence for voting multiple times illegally
For voting illegally, a permanent U.S. resident has been sentenced to eight years in prison.
Rosa Maria Ortega, a green-card holder living in Texas, was convicted on two felony charges of illegal voting, for casting a ballot as a non-citizen in 2012 and 2014, as reported by the Washington Post.
Ortega, a registered Republican, may be deported after she completes the sentence. According to her lawyer, Clark Birdsall, she is a green-card holder who originated from Mexico but was brought to the United States as an infant.
Follow us on our Twitter account, @amomama_usa, to learn more.
TOO HARSH A PUNISHMENT
Birdsall lamented that the punishment was too harsh and that Ortega's conviction was meant to appease people are "swept up in the Trump hysteria where he is trying to find an explanation for why he lost the popular vote."
President Donald Trump earlier claimed that 3 million to 5 million ballots were cast against him, so he lost the popular vote to his rival Hillary Clinton.
Texas Attorney General Ken Paxton, who prosecuted the case, was happy with the decision.
"This case shows how serious Texas is about keeping its elections secure, and the outcome sends a message that violators of the state's election law will be prosecuted to the fullest," he said in a statement. "Safeguarding the integrity of our elections is essential to preserving our democracy."
HONEST MISTAKE
Birdsall said Ortega had been voting for more than a decade but she didn't vote in the 2016 presidential election.
He said Ortega merely made an honest mistake when she marked herself as "citizen" on her voter application. There are two options: to mark herself as a "citizen" or a "noncitizen".
"She doesn't know. She's got this [green] card that says 'resident' on it, so she doesn't mark that she's not a citizen. She had no ulterior motive beyond what she thought, mistakenly, was her civic duty," Birdsall said.
Please fill in your e-mail so we can share with you our top stories!