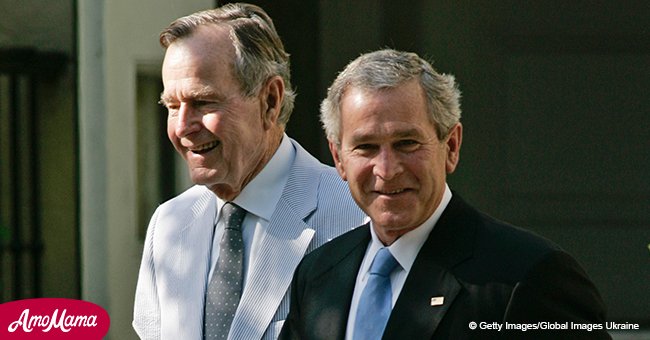 Former President George H. W. Bush's final words revealed
George H. W. Bush recently passed away at the age of 94 but he didn't leave earth without telling his son that he loved him very much.
The former President of the United States, who was in office from 1989 to 1993, drew his last breath on Friday, November 30, 2018, at his home in Houston, Texas.
As reported by The New York Times, Bush was surrounded by family and friends at the time of his passing and told his son, George W. Bush, that he loved him.
Follow us on our Twitter account @amomama_usa to learn more.
A HARD GOODBYE
The revelation was made by James A. Baker III, Bush's friend and former chief of staff, as well as secretary of state, during an interview with the news outlet.
To Baker, it was a very emotional moment and one that he can't remember 'without welling up.' Unfortunately, George wasn't able to be physically present so their words were exchanged through a phone.
HEALTH DECLINE
Alongside Baker was his wife Susan, a couple of members of the Bush family and some friends, such as Neil Bush, his wife Maria and son Pierce, granddaughter Marshall Bush and the former president's former chief of staff Jean Becker.
Despite fulfilling his dream of returning to the family's compound in Kennebunkport, the death of his 73-year-old wife and former First Lady Barbara, Bush's health started to decline even more.
"I can't even hardly talk about it without welling up."
His final days were spent in bed and it was there that Bush was visited by former President Barack Obama on Tuesday, November 27, who happened to be in town.
TOGETHER AGAIN
At that point, he wouldn't eat at all, but he seemed to regain his appetite by Friday when he ate a couple of fruity drinks, boiled eggs and yogurt. Sadly, he died hours later.
Although it was sad to such a great man pass away, he had the chance to reunite with the love of his life, with whom he was married for 73 years and experienced the best that life has to offer.
Please fill in your e-mail so we can share with you our top stories!