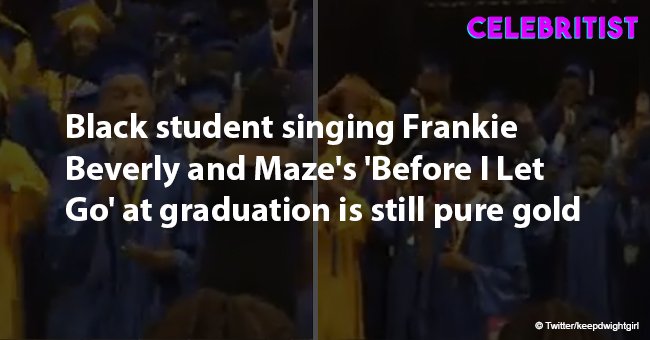 Black student singing Frankie Beverly and Maze's 'Before I Let Go' at graduation is still pure gold

A graduating student shows the world how to celebrate by leading his class in an impressive song and dance number inspired by Frankie Beverly and Maze's hit.
Graduation is a time to celebrate and for a graduating class in Los Angeles, California, this meant it was time to sing to the tune of Frankie Beverly and Maze.
Proud mother Leah Oduro-Kwarten shared a video of a group of graduating students singing and dancing to "Before I Let Go." Taking center stage was her son, Stephahn, who led his class in belting out the lyrics of the classic hit.
Dressed in their blue and yellow gowns and toga hats, the graduating class impressed with their synchronized choreography while echoing Stephahn's vocals. The result was a video that went viral thanks to Leah who documented the moment.
The clip earned 2.7 million views at the time it was released along with memes responding to its popularity. Here are some of them.
A GRADUATION INSPIRED BY MICHAEL JACKSON
Meanwhile, seniors at North Brunswick High School chose Michael Jackson's "Man In The Mirror" as their anthem for their graduation. In an impressive display of choreography, the graduating students sang the inspiring hit creating new meaning to the end of high school.
CAN'T STOP THE FEELING
But it's not only adult graduating students who seem to be getting all the attention on graduation day. A Kindergarten student was especially jubilant after receiving her diploma that she started a dance craze on stage. Upon hearing Justin Timberlake's song, "Can't Stop The Feeling" being played, Aubrey couldn't stop herself and broke into dance while walking off the stage and waving her diploma. She even capped her routine with a final spin before exiting. Audrey's mood inspired her classmates who began to shake to the beat though Audrey's performance was clearly the standout.
Graduating students may be required to exhibit a certain amount of decorum during the ceremonies but when they start to break out into song and dance, who's to stop them? After all, it's the culmination of all their hard work and they deserve a moment or two to dance for joy.
Please fill in your e-mail so we can share with you our top stories!