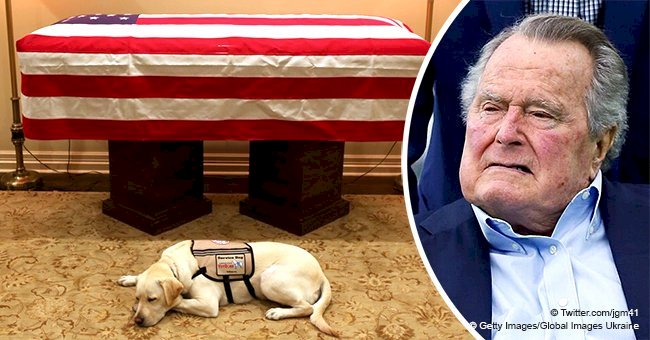 George H.W. Bush's service dog lays at his master's side in heart-wrenching photo

Following the death of former President George H.W. Bush, his canine friend and companion has been pictured lying beside his master's coffin in a heart-wrenching photo.
Sully, a trained golden lab that has been with Bush since June, looked sad as he curled up on the floor beside the American flag-draped casket. The deceased's spokesman, Jim McGrath, shared the picture on Twitter yesterday with a short message:
"Mission complete. #Remembering41"
So far, the image has almost 28,000 retweets and more than 100,000 likes. Twitter users also left comments about the faithful dog who stayed by his master till the end.
"What will happen to Sully? He is such a good boy," asked one user, while another said:
"Sully, still taking care of his person. What a blessing he was to GHWB."
A LOYAL COMPANION
The late president happily announced the arrival of Sully six months ago after the passing of his wife of 73 years, former First Lady Barbara Bush.
"A great joy to welcome home the newest member of our family, "Sully," a beautiful -- and beautifully trained -- lab from @AmericasVetDogs. Could not be more grateful, especially for their commitment to our veterans," Bush tweeted at the time.
America's VetDogs is a non-profit organization in New York that provides service dogs to veterans in need.
"As a true patriot and a visionary, President Bush will forever be viewed by people with disabilities and their families as a hero."
Sully is named after the courageous pilot who successfully landed a faulty passenger jet on the Hudson River in 2009, thereby saving the lives of over 100 people. The canine fellow also has an Instagram account where his moments with the late president are documented.
NEXT STEP FOR SULLY
Sully will be accompanying his master's casket to Washington D.C today, after which he will be returned to America's VetDogs in Smithtown, New York, where he will stay for the holidays.
Sully's next stop will then be the Walter Reed National Military Medical Center's Facility Dog Program. There, he will join other dogs to assist wounded soldiers with physical and occupational therapy.
John Miller, President and CEO of America's VetDogs, also told KTRK-TV:
"Our thoughts and prayers are with the entire Bush family during this difficult time. It was truly an honor to have provided service dog Sully to be by the president's side for the past several months. As a true patriot and a visionary, President Bush will forever be viewed by people with disabilities and their families as a hero through his efforts to enact the Americans with Disabilities Act. We are forever grateful to his service to the American people."
A PRESIDENT BOWS OUT
Late president George H.W. Bush died in the late hours of Friday, November 30, at his Houston Home. He was aged 94. His son and fellow former President, George W. Bush, praised his father as "a man of the highest character and the best dad a son or daughter could ask for."
World leaders have been sending in their tributes to the late Republican, including the current president of the United States, Donald Trump.
FUNERAL ARRANGEMENTS
Bush's funeral schedule, as reported by Dailymail, will include a public viewing from today, Monday till Wednesday. A state funeral will hold later on Wednesday at the Washington National Cathedral.
A private service will follow on Thursday at St. Martin's Episcopal Church in Houston. Later that day, the 41st president of America will be buried next to his wife at the George Bush Presidential Library and Museum in Texas.
Please fill in your e-mail so we can share with you our top stories!