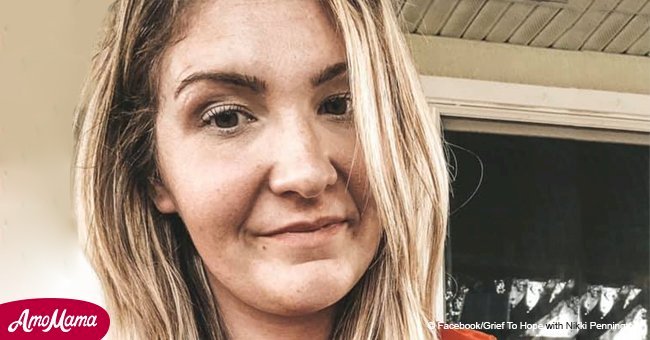 Woman's experience of dealing with her mom's death went viral on Facebook

Late in the evening of November 12, Nikki Pennington sat down to pen her experience in losing the most important person in her life, her mother, and how it affected her in a heartbreaking post.
A mother herself, this blogger at Grief to Hope lost her mother to brain cancer five years ago, to those who have lost a mother, that is not a long time.
When she shared her experience with the profound personal loss she faced, and still do, on Facebook, it went viral. Nikki started the post with the words:
"And when she dies you'll search for her no matter how long she's been gone. You'll search for her the minute she leaves in that very room. You'll search the sky. You'll search online. You'll search group forums. You'll search old messages. You'll search old text messages. You'll search old letters. You'll search old cards. You'll search for her."
Read more on our Twitter account @amomama_usa.
Many will tell you losing their mother was the hardest thing they have experienced. The depth of Nikki's experience evident of that as she continued in her post:
"You'll search old high school yearbooks. You'll search old photo albums. You'll search the memories of old friends. You'll search for her things. You'll even search the crowds. Even though someone told you she's gone, you'll still search for her. And when you are walking down the aisle, when your baby is born, and when the holidays come around, you'll search the room for her."
As heartbreaking as the experience is, it also shapes a person, it makes you realize how strong you are, even if you don't feel it. As Nikki continued she spoke of how everything reminds of her late mother:
"When the days are hard and when they are good. When the times are difficult and when they are so good that pure joy is filling your soul. When you are sitting on your back porch trying to sort out all your problems, you'll look over because even if for a minute you'll be searching for her."
Nikki came to an important realization, one that perhaps gives one some comfort and strength as she said:
"Then one day you won't have to search any longer because you'll find her. You'll find her in the gentle breeze. You'll find her in words to your favorite song. You'll find her in your child's smile. You'll find her more and more as the days pass and then one day you'll realize she's been there all along. You didn't need to search far to find her because you are her daughter and that means a part of her is always with you."
For Christie Lynn, having dealt with the loss of her mother made her realize her own inner strength. She became a person she never thought possible, Christie fought the odds and never gave up and saw her resilience. She is strong, a survivor.
Significant events in our lives shape us, and a loss as profound as suddenly having to face the world without the most important person by our side is painful, but therein lies another powerful transformation.
Our mothers spent their lives preparing us to walk our paths. Realizing our strength and resilience can give us the courage to take the reigns with renewed confidence as we know our loved ones will always be with us.
Even when aware through terminal illness or similar that we would have to say goodbye, it does not prepare for what follows, as actor Colton Haynes-Leatham stated in a post after his mother passed on March 18:
"Today I lost my best friend, the love of my life…my momma. Words can't express how incredible this woman was. I have so many things to say, but I'm in a state of shock. I will always love you, momma. RIP my angel."
His mother battled advanced cirrhosis of the liver, and a liver transplant was not an option due to the limited time the disease afforded her. As a family, they were forced to say goodbye to the strong matriarch of the family, whom would be sorely missed and never forgotten.
Please fill in your e-mail so we can share with you our top stories!