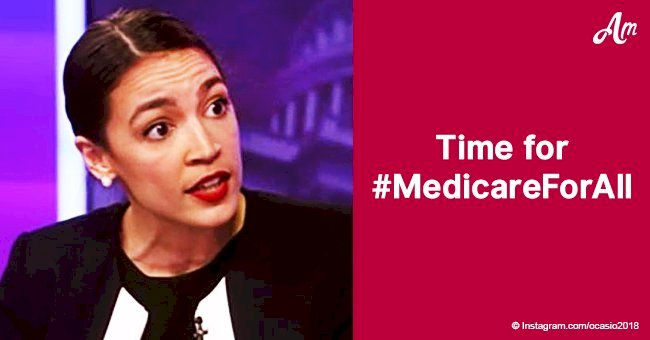 'Time for #MedicareForAll': Alexandra Ocasio-Cortez seeks low-cost healthcare for all Americans

Representative-elect Alexandria Ocasio-Cortez seeks low-cost healthcare for all Americans and uses the hashtag #MedicareForAll to spread the message.
Alexandria Ocasio-Cortez criticized the healthcare system. She demands that everyone from regular citizens, lawmakers, and advocates help to reform the healthcare system.
"In my on-boarding to Congress, I get to pick my insurance plan," revealed the incoming New York legislator in a tweet on Saturday evening.
"As a waitress, I had to pay more than TWICE what I'd pay as a member of Congress. It's frustrating that Congressmembers would deny other people affordability that they themselves enjoy. Time for #MedicareForAll."
Her endorsement of Medicare-for-All, which would provide government Medicare coverage to every American. According to polls, the motion is supported by 70 percent of the country.
Ocasio-Cortez worked as a waitress and bartender to supplement her mother's income after graduating from Boston University. More recently she has made headlines with her outspoken nature especially against political norms and established practices.
Besides her recent speech on health care. She also currently leads a plan to create a special congressional committee on climate change.
Ocasio is also lobbying for drastic shifts in the country's approach to climate change. The "Green New Deal," is an extensive play on the plan that President Franklin D. Roosevelt implemented to boost the economy during The Great Depression.
At the end of last month, Ocasio-Cortez spoke out against the use of tear gas against migrants at the U.S.-Mexico border. She compared those seeking refuge in the U.S. to Jews during the Holocaust.
"Asking to be considered a refugee & applying for status isn't a crime. It wasn't for Jewish families fleeing Germany. It wasn't for targeted families fleeing Rwanda. It wasn't for communities fleeing war-torn Syria. And it isn't for those fleeing violence in Central America," she wrote
The progressive lawmaker has experienced a range of criticism, including sexist attacks. However, none of that has stopped her. She uses her social media platform to call out political opponents.
Please fill in your e-mail so we can share with you our top stories!