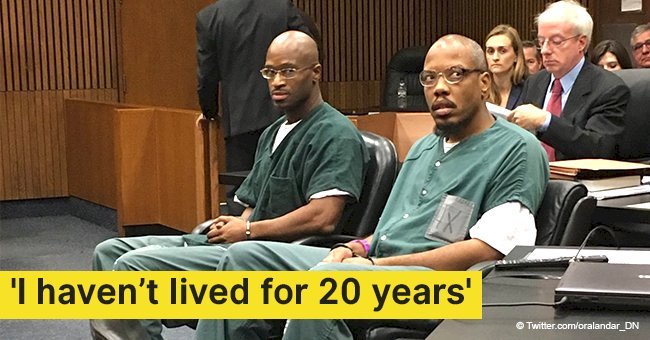 2 black men are finally free after spending 20 years in prison for a murder they didn't commit

Christmas came early for two Black men who recently earned their freedom after serving 20 years in prison for a crime they didn't commit.
Justly Johnson and Kendrick Scott are looking forward to a new life outside of prison after charges against them were dismissed this week. They'd been serving time behind bars for two decades following a wrongful conviction for the murder of 35-year-old Lisa Kindred.
WHY THEY WERE CONVICTED
Back in 1999, Kindred was sitting in her van with her children near a gas station in Detroit when she was shot and killed by suspects. Testimonies of two witnesses sent Johnson and Scott to jail.
"To be honest with you, I just want to live and enjoy life. Breathe. At the end of the day. That is it."
PROOF OF THEIR INNOCENCE
However, seven years ago, Imran Syed of the Michigan Innocence Clinic discovered none of the children were questioned regarding their mother's murder. When they were finally asked, one of the sons who saw the suspects revealed Johnson and Scott weren't his mother's killers.
The two witnesses who originally testified also recanted their testimony which led to the opening of a new trial to overturn the pair's convictions. The trial was supposed to begin next week but to Johnson's and Scott's surprise, all charges were dropped by the prosecutor during the final pretrial conference. According to Syed,
"We all arrived in court not knowing what would happen and I give the prosecutor a lot of credit for making this decision. I know there are a lot of factors involved and it's never easy."
THEIR THOUGHTS AFTER THEIR RELEASE
Relieved by the early awarding of their freedom, Johnson merely looks forward to breathing air outside of the walls of prison.
"To be honest with you, I just want to live and enjoy life. Breathe. At the end of the day. That is it."
Johnson and Scott never wavered in their faith that their freedom would one day come. They knew the truth would eventually set them free. According to Scott,
"I knew I didn't do anything and when you are falsely accused of a crime all you can do is hope and you know it's going to come one day."
Though they both spent time in separate prisons, they had a common goal – their freedom. Scott is grateful that they finally achieved it by sticking to their truth.
"It's a blessing because we never lied on each other like the other people lied on us to get us in jail. We stayed strong and now we are out together at the same time. It's a blessing."
Johnson and Scott will be receiving $50,000 for each year they wrongfully served in prison so they can start a new life outside.
HE DIDN'T COMMIT THE CRIME HE SAID HE WAS GUILTY OF
Meanwhile, in May, Corey Williams, a mentally disabled man who was also wrongfully convicted for the murder of a pizza delivery guy finally walked out of prison after 20 years. His lawyers fought for his freedom after learning there was no physical evidence linking him to the crime. The only reason he was sent to prison was his testimony admitting his guilt after denying it the first time. His lawyers claimed Williams who was 16 years old then merely assumed responsibility for the homicide because he was tired of the questioning and just wanted to go home.
Further investigation revealed three older men who actually stole money and pizza from the victim were tied to the crime. One of the men was identified by a witness as the shooter while fingerprints of the other man were found on the weapon. The third man's clothing had the victim's blood on him. Williams' lawyers also accused the prosecutors of withholding evidence that would prove Williams' innocence.
Williams walked out of prison after agreeing to a plea deal that deemed him guilty of the obstruction of justice. He signed the deal to avoid further time in prison.
FREE TO VOTE
More recently, a former inmate celebrated his freedom by exercising his right to vote. After spending time behind bars for 28 years for a crime he wasn't guilty of, Anthony Hilton posed for a photo with a voter's sticker on his forehead to prove he was a free man with rights. Hilton was serving time for and waiting on the death row for two robberies resulting to murder. A survivor of one of the robberies identified him as the assailant, though he was at a grocery store 15 miles away when the crime occurred. More recent ballistic tests also contradicted previous evidence linking him to the crime. In 2015, he was released from prison.
Please fill in your e-mail so we can share with you our top stories!