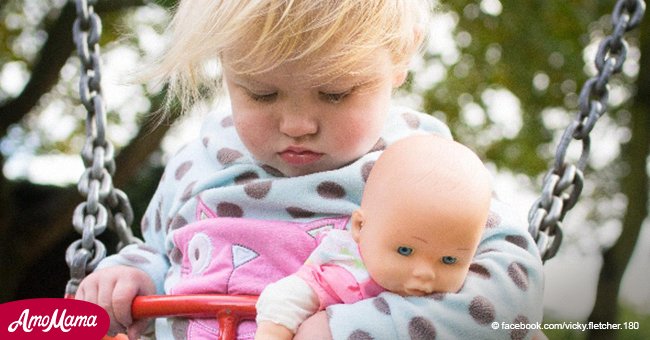 Adorable photo of toddler falling asleep was an early warning sign of her cancer diagnosis

The photo of a girl who fell asleep while swinging on a swing contained sinister clues that she had cancer.
Dave Fletcher, a 39-year-old dad, thought he was taking an innocent photo of his daughter but the weariness of little Izzy turned out to be a symptom of leukemia.
Fletcher made the decision to believe he was capturing a beautiful moment of his daughter's childhood after little Izzy fell asleep when she was 23 months old.
But weeks later, the father and his wife Vicky, 37, were horrified to discover that their daughter's fatigue was actually a sign of leukemia. Read more on our Twitter account @amomama_usa
The brave girl has since undergone 570 rounds of strenuous chemotherapy and is now receiving maintenance therapy in an attempt to stop cancer from coming back.
Dave, from Claines, Worcs, said: "It was just one afternoon on the swings, she was swinging, I turned around and she had fallen down, she was sleepy and she fell asleep, but I did not think much about that. cute and I just took a picture. "
"It was only after we realized that everything was part of the symptoms and that what I had captured was that she showed signs of something else," he said.
The girl had been tired, had some colds or viruses, and a bit of bruising on her legs. But they thought they were the normal blows of childhood and minor illnesses.
"You get a bit sentimental, looking at pictures of her before she gets sick, you just realize how much has happened since she was so young," she said.
The couple had taken Izzy to see a family doctor in January last year after a strange rash appeared on her leg and they were told to return for blood tests. But the next morning, her rash had spread and had a temperature, so she was taken to the Worcester Royal Hospital.
She was diagnosed with leukemia on the same day and started a chemotherapy treatment the following week. Izzy spent her second birthday at the hospital while waiting for a procedure to take samples of her bone marrow.
The little one is enrolled in a clinical trial called UKALL 2011, which aims to see if changing the chemotherapy treatment will reduce the side effects, and continue in treatment until May next year.
"She has grown very fast and has been subjected to drugs that she does not like, but until now she has taken everything at a good pace. When she was diagnosed, she came out of nowhere, we were both in real shock because it happened so fast," said Dave.
In another story, you can see an image of a couple as they take their 2-year-old son across the corridor of a hospital that is now capturing hearts everywhere.
The parents, Celia and Geff Kinzel wed this month in the chapel of Nationwide Children's Hospital in Columbus, Ohio, where their son Logan is a patient. After the January 7 ceremony, Logan's grandmother took a photo of the little boy going back to his room with his mother and father.
This story reminds us of the time when dedicated dad Thomas Kennith found out his son Kristian was done with the first round of his chemotherapy process and was free to go home for a few days; the joyful dad celebrated doing what he does best: dancing.
Kennith, who's the owner of a dance studio in Pennsauken named The Level Dance Complex — a name that came way before Ciara's hit song, revealed to Good Morning America that he loves to dance for his son as is something that calms Kristian.
Please fill in your e-mail so we can share with you our top stories!