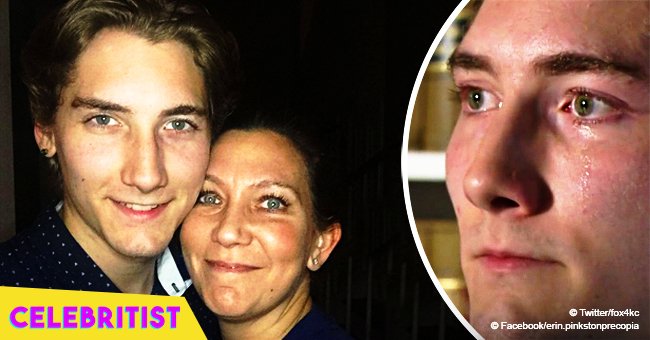 The story of how a mother's selfie saved son's life from 99 years in prison went viral in 2018

A man who faced a lifetime in prison is grateful for a selfie that ultimately proved his innocence.
Cristopher Precopia was wrongfully accused by his ex-girlfriend of a brutal crime against her. Though his former lover's testimony was strong enough to put him to jail, he later learned a selfie he took on the night he was accused of committing the crime would exonerate him.
HIS ARREST
On September 20, 2017, Precopia got a visit from the police who claimed his former high school girlfriend accused him of breaking into her home and brutally slicing an X on her chest with a box cutter. Having had no contact with his ex for years, Precopia was surprised by her allegations. Police arrested Precopia who was certain he wasn't guilty of the crime.
A ROCK-SOLID ALIBI IN THE FORM OF A SELFIE
Luckily for him, the date and time the woman claimed he attacked her coincided with the time he knew exactly where he was – with his mother. And he had a selfie to prove it. According to his accuser, he assaulted her at 7:20 pm. A Facebook selfie he took and posted by his mother that day revealed Precopia was actually with his parents at a hotel 65 miles away from the scene of the alleged crime.
Erin Precopia, the accused mother, was grateful for the time stamp and Geo-locator of social media that eventually proved Precopia's innocence.
"I'm thinking, 'this is awesome. By the grace of God, she said it happened on the day when I can say totally, 100 percent, where he was at," she told KVUE.
FREEDOM AND THE TRUTH REVEALED
It took nine months after Precopia was arrested before the photo proved his innocence and charges were dropped immediately after. He later learned the woman who accused her confessed to the police that their troubled relationship in high school drove her to accuse Precopia of assault. She was not charged with a crime despite lying to the police.
Meanwhile, Precopia wants to put everything behind him and live his life free of worry. He enlisted in the army after his release. His mother is fighting to make sure her son's false accuser is charged after everything she put their family through.
SELFIE SAVES HER FROM A STROKE
This story proves how a mere selfie can save a person's life, much like a 63-year old woman whose attempts at taking a selfie saved her from a deadly stroke. Juanita Branch was trying to take the perfect selfie in her home when she noticed her efforts were failing. She soon realized she was already having a stroke as she noticed one side of her face drooped in her photos. She immediately sought for assistance and with the help of her selfies, doctors were able to determine the time she started having a stroke. Three hours later and her stroke would have been fatal. Luckily for Juanita she discovered her stroke early and it ultimately saved her life.
MEANINGFUL BEFORE AND AFTER SELFIES
Selfies can speak a thousand words as these stories reveal. For a man riding a bus in Mozambique, his series of selfies spelled the difference between an easy ride and a catastrophic one. The man took a selfie looking happy while riding the bus and moments later took another one after the bus he was taking met an accident killing three people in the process. In his second selfie, he was no longer smiling and his face was covered with dust. His before and after selfies made the rounds of the internet.
Please fill in your e-mail so we can share with you our top stories!