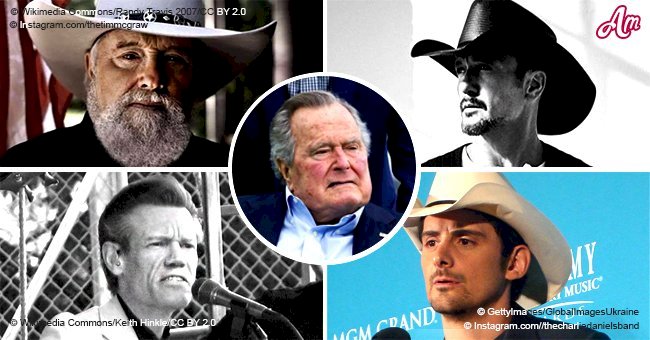 Charlie Daniels mourned death of Former President George H. W. Bush with touching statement
Country stars expressed their loss in emotional posts after the death of the former President George H.W. Bush.
On November 30, 2018, the former president, George H.W. Bush passed away, the 42nd U.S. president was 94 years old. The former president loved music, country music, and was the only president to ever attend the County Music Association awards.
Read more on our Twitter account @amomama_usa.
At the end of the broadcast of the 25th annual CMA awards, President Bush delivered a speech wherein he sang the praises of country music as he said:
"Country music gives us a window on the real world. It's easy to see why America loves country music. Country music loves America."
Country music legend, Charlie Daniels reached out to the Bush family after he heard the news. An avid supporter of the former president for many years, he was deeply saddened by the news. The day after the former president's passing Charlie wrote on Twitter:
"Deepest condolences to the Bush family on the death of George H W Bush, a patriot, and a truly nice gentleman."
Former President George H.W. Bush was loved within the country music community, and many took to social media and other outlets to honor and remember the former country music loving president.
Randy Travis and the former president met and became friends when he wrote and performed the 1991 song 'Point of Light' for President Bush's 'Thousand Points of Light' initiative and shared his grief as he wrote on Twitter:
"Yesterday, the country lost a great American hero…the world lost a wonderful human being whose greatest concern was for others, and for that which is right."
Singer, songwriter Brad Paisley also shared his feelings on Twitter with the words:
"War hero, congressman, Ambassador, CIA Director, VP, President, father, family man, friend. Thank you for your friendship and for giving yourself so fully to these United States. I'll miss you, pal. Barbara's got the whole place organized up there by now, I'm sure. Go home. #georgehwbush."
Other celebrities also shared their condolences and grief, as Arnold Schwarzenegger posted a full statement on the former president's passing using the online platform Medium. In a shorter message Arnold said on Twitter:
"President Bush has left us for one last flight, but his destination isn't unknown. He's flying into the arms of the love of his life, Barbara. This evening, each of us should take a minute to look up and offer him a silent thanks."
Goldie Hawn shared her feelings as she wrote on Twitter:
"My heart aches knowing George Bush 41 has passed. An authentic caring human being who never hid his truth. He will always remind us 2 exemplify that whining will never be our legacy. His love for life and family will live on RIP dear soul."
George H.W. Bush served as Vice President from 1981 to 1989, and his presidency lasted from 1989 until 1993. He was 94 years old at the time of his passing.
An arrival ceremony took place on Monday, December 3, where members of the House of Representatives and Senate gathered at the U.S. Capitol.
The former president will lie in state in the rotunda for the public to be able to pay their respects until Wednesday, December 5. A ceremony at the National Cathedral in Washington is set to begin at 11 am.
The current, as well as former presidents and other dignitaries, are expected to attend the ceremony after the memorial Bush's body will be flown back to Houston where he will lie in repose at St. Martin's Episcopal Church until Thursday morning. At 11 am on Thursday, December 6 another memorial service will be held at the church.
It has been a mere eight months since Barbara Bush also got laid to rest at the St. Martin's Episcopal Church, on April 21, 2018. A group of Secret Service agents were present at her memorial, they felt it their duty to honor one of the most gracious people they have ever protected, and wanted to make sure she arrived safely at her final resting place.
Two of the Secret Service agents rode in the hearse while in transport to her place of rest, the Bush Library at Texas A&M University. Barbara got put to rest close to her daughter, Pauline Robinson Bush, who died at the age of three.
Please fill in your e-mail so we can share with you our top stories!