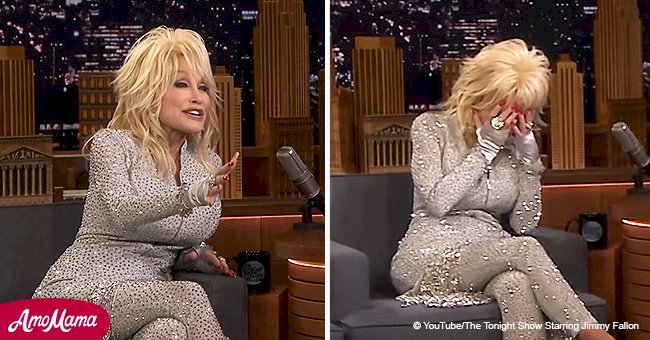 Dolly Parton totally exposes her husband on Jimmy Fallon's show
Dolly Parton may have divulged a bit too much about her husband on Jimmy Fallon's show last weekend.
The 72-year-old did an interview with Fallon and seemed to be stumbling over her words. Yet when it came to revealing some bedroom antics, she was clear as day. The hilarious clip is found below.
Fallon interviewed the legendary country singer about her new Netflix film on "The Tonight Show Starring Jimmy Fallon." The upcoming flick stars Jennifer Aniston as an aging beauty pageant queen.
Follow us on Twitter for more @amomama.
While Parton admitted she "loves her to death," she also shared how much affection her husband of 52 years has for Aniston. Parton revealed that he's "crazy about her."
She told Fallon:
"He was more excited that I was going to do a movie with her than he was that I got the chance to write all this music."
Parton was referring to the original songs she created for the film which is based on a novel by Julie Murphy.
She continued:
"See, I think he kinda fantasizes, like, a threesome with us."
Amid a roar of laughter from the audience, Fallon pointed at the camera and said: "Go to bed Carl!" There was more to come from the singer-songwriter, however.
Parton added:
"He can't even get it out to pee, much less get it up for three."
With that, Fallon hit the floor in laughter. When he finally got back up, he wrapped up the segment.
Parton admitted that her husband is going to hate her for the public revelation. Yet it's unlikely the pair will have much trouble.
In an interview earlier this month, Parton spoke about their long-standing marriage.
She credited her husband's desire to remain out of the spotlight as a huge factor. He only goes to private places where he can be "comfortable," the star said.
That includes countryside lunches and low-key restaurant dates. Additionally, due to Parton's traveling, they have to take "mini trips." This just means the time they spend together is all the more special.
Source: YouTube/ The Late Night Show Starring Jimmy Fallon
The film, "Dumplin," will be released on December 7. It stars Australian actress Danielle Macdonald as Aniston's heavyset daughter. She enters her mother's pageant and drama unfolds.
Macdonald's character is strongly motivated by Parton. The film is based on the true story of a young girl who used Parton's music and personality to build her own confidence.
Please fill in your e-mail so we can share with you our top stories!