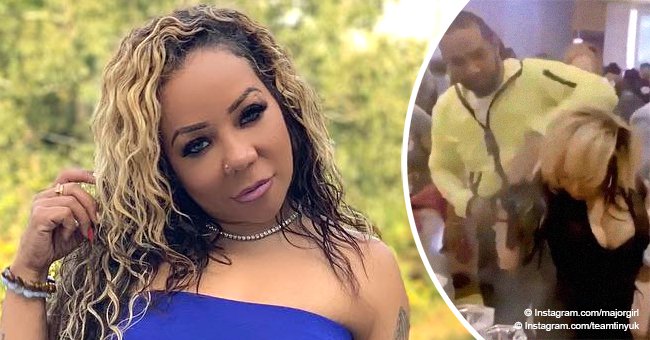 Tiny Harris' hair catches on fire in new video preview of 'Friends & Family Hustle'
Tiny Harris is mocked by her husband after her hair catches fire during his birthday party.
In the midst of a lavish party celebrating T.I.'s birthday, Tiny Harris was on fire – literally.
Sparks flew from Tiny Harris' hair when it accidentally dipped into a burning candle during a party held for her husband. The Michael Jackson moment was featured in the latest preview of "T.I. and Tiny: Friends and Family" where T.I. even mocked his wife upon seeing her hair in flames.
Tiny was calm despite her husband making light of the situation by joking she had the devil in her. But she does say in the preview,
"When I tell everybody that this party's gonna be lit, I didn't mean like this!"
A LAUGHING MATTER
Fans couldn't help but laugh over the incident and admire T.I. and Tiny's relationship even more. One fan noticed how T.I. got away with mocking his wife.
"The fact that you were able to laugh at your MJ moment. NOT be afraid to let them air it on TV, makes me adore you more! Glad ur ok too. Omg,.i couldn't stop laughing…I woke my husband up screaming TAMEKA YO HAIR IS ON FIRE GIRL!! YOU BOUGHT TO BURN UP. y'all are hilarious."
A COMPLICATED MARRIAGE THAT WORKS
T.I. admitted on the same episode that his relationship with his wife is quite "complicated" but it works despite them living under separate roofs.
"The Harris household is rather complicated. Yes, we're married. Yes, we're on good terms. No, we do not sleep in the same house, necessarily. I think our personalities are too big to fit under one roof. It might not work for everybody else, but it works for us. That's why we deserve each other."
AGREEING TO DISAGREE
The couple managed to overcome all the obstacles, women and fights that threatened their marriage in the past, including their most recent argument involving their son, King Harris.
T.I. learned that King had been careless with his grades and disrespecting his teachers, so he imposed a punishment that didn't sit well with Tiny. He banned King from any outside activities which meant him missing a family commercial Tiny was planning. The ad revolved around their daughter Heiress' new nail polish line and she wanted the whole family to be part of it.
Despite reasoning with her husband, Tiny couldn't get him to ease up on the punishment and eventually conceded though she was irked by the fact that the final say always had to be T.I.'s.
LETTING A CHEATING SCANDAL SLIDE
Tiny also let it slide when in June, her husband was caught on video getting cozy with another woman and even slapping her behind. It seemed Tiny was affected and admitted soon after that she hired a private investigator to track her husband's actions. But all was well between them a few weeks later on Tiny's birthday. She was greeted with a brand new car, a present from her husband which she delighted in and thanked him for.
Tiny and T.I. have since been spotted sharing steamy dates and it's safe to assume they're in a good place in their marriage today.
Please fill in your e-mail so we can share with you our top stories!