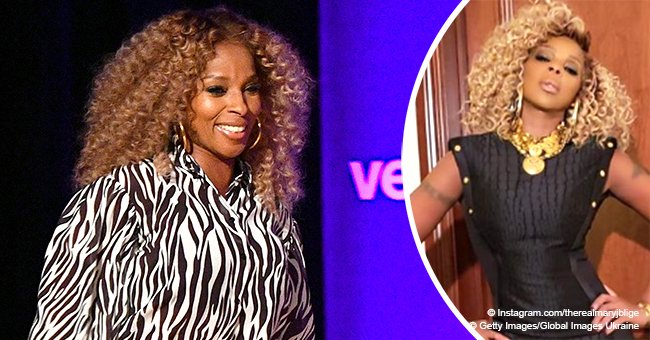 Mary J. Blige, 47, flaunts slim waist in Versace mini dress & high-heeled boots in new photos
Singer and actress Mary J. Blige took to Instagram to share a slideshow wearing a beautiful Versace outfit and astonishing pieces of jewelry.
In the first image, Blige posed wearing a form-fitted black dress that highlighted her slim waist. Apart from that, she wore a large, black coat covering her shoulders. The singer's blonde hair, golden necklaces, and bracelets attracted a lot of attention.
For the second image, Blige removed the coat and put her arm tattoos on full display. Her unique, colorful boots gave her outfit the final chic touch. In the caption, the singer only wrote, "VERSACE."
As soon as she uploaded that image, her followers took to the comment section to share their thoughts. Most of them praised Blige's outfit, saying that it was "legendary." Others just pointed out how classy the singer looked.
BLIGE'S EULOGY
It is not the first time that Blige made headlines in recent times as she broke down in tears while giving a eulogy at Kim Porter's funeral. Diddy's ex-girlfriend passed away at her home in Toluca Lake in Los Angeles on November 15, 2018.
Since Blige and Porter were close friends, the singer was one of the people who gave a eulogy during the memorial service, held at Cascade Hills Church. About 1,300 people – including many celebrities – attended the ceremony.
In her tribute, Blige revealed that Porter tried to protect her from getting into a doomed marriage. The singer added that Porter had been laying down all the warning signs for her, but she couldn't notice them.
BLIGE'S RELATIONSHIP
Blige was married to her manager Martin Isaacs from 2003 to June 2018, though they parted ways in July 2016. One of the principal aspects that led to their divorce was an affair Isaacs had. As People reported, the man spent more than $420,000 during the marriage on travel charges that involved the mistress.
Unfortunately, the divorce process was long, bitter, and public. It almost ruined Blige financially, which is probably why she talked about Porter trying to keep her away from walking down the aisle into a doomed marriage with Isaacs.
Even though the couple didn't have children together, Blige was the stepmother of Isaacs' three children: Briana, Jordan, and Nas. At the moment, Blige is focused on an upcoming horror film titled "Body Cam," as well as on a TV show titled "Scream."
Please fill in your e-mail so we can share with you our top stories!