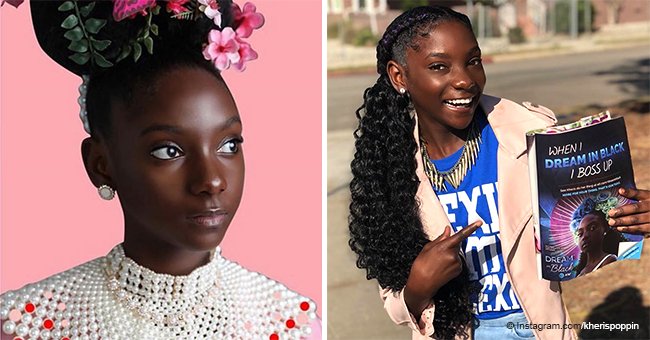 11-year-old girl lands Teen Vogue feature after being teased about her dark complexion
Kheris Rogers, an 11-year-old girl that was bullied at school for her skin color, is now one of the youngest CEOs in the fashion industry, as she developed a clothing line to promote self-love.
Rogers turned all the hatred she received from having a dark complexion into something positive, and as a result, she got nationwide attention, and many doors have opened for her in the entertainment industry.
The little girl recently landed a feature in Teen Vogue's magazine "21 under 21" edition, which celebrates women under the age of 21 that have made a significant change in the industry with their talents or innovative ideas.
Kheris' fashion line, "Flexing In My Complexion," debuted on the New York Fashion Week a few months ago, and she was the youngest designer to walk the runaway.
BEING BULLIED BY HER PEERS
Rogers started to get bullied because of her dark skin in the first grade. Her classmates would make fun of her and call her mean names like "dead roach" and tell her she was left "too long in the oven."
Speaking to CBS last year, Kheris recounted how in one class, the students were asked to draw self-portraits and while the other African American girls got a brown crayon from the teacher, Rogers got a black one.
"I just didn't feel I was that pretty. I thought I was really ugly," she said. "I felt like they were bullying me because of my skin color because I was darker."
Kheris' mom was enraged about that particular incident and moved the girl to a more diverse school, but things didn't get better. The bullying did not stop, and Kheris started to feel even more isolated and insecure since the taunting was now coming from black students too.
"One day she was taking a bath, and that's when she expressed to me that she wanted to stay in the bathtub longer in hopes that her skin would get lighter," said Taylor Pollard, Kheri's big sister.
GOING VIRAL WITH A CATCHY PHRASE
Frustrated for seeing how her little sister's confidence was being smashed, Taylor decided to encourage Kheris with the help of social media. She took to Twitter and posted a pair of pictures of the girl, captioning them:
"My sister is only 10 but already royalty", and added the hashtag "#FlexinInHerComplexion," a catchphrase that their grandmother said to let the sisters know they're beautiful.
"It doesn't matter what other people think about you. It's what you think about yourself. You should always believe in yourself."
"There is an issue of colorism in any race, and I think it's important to instill confidence. She's a chocolate girl dressed nicely [and] had her natural hair showing I just wanted to put it out there she was flexing her complexion," said Pollard.
The post went viral with people from all over the world praising Kheris' beauty and sending her positive messages.
CREATING SOMETHING GOOD
The #FlexingInMyComplexion line was a sensation. People of color started using it on social media to embrace their uniqueness and beauty. So, Taylor realized that she could use the momentum to create something positive that would not only encourage people to embrace their skin color but also raise funds for Kheri's future and education.
That's how the sisters started to design t-shirts with the now famous catchphrase. They set up an online store and soon, they were getting up to 100 orders per day.
Last year, they received over 10,000 requests in total, an impressive number for such a young entrepreneur.
Kheris is the CEO and model of the small business. "I wanted to create this clothing line to inspire other people to be confident and comfortable in their skin. The reason why the font on our Classic shirts is so bold is because we wanted the shirts to be just as bold as the message," the girl told Mashable.
After her posts went viral, celebrities such as Lupita N'yongo, Alicia Keys, Whoopi Goldberg, and Lena Waithe have worn the t-shirts. Even Snoop Dogg posted about Rogers on social media.
FLEXING ON NEW YORK FASHION WEEK
Last September, Kheris was invited to introduce her line at the Harlem Front Row fashion show during the New York Fashion Week.
She walked down the runaway sporting her designs from the upcoming Fall/Winter collection of her brand.
Rogers has also appeared on TV shows such as "American Next Top Model," "Steve Harvey TV," and several other news outlets nationwide.
The girl is also working in her career as a model, working with Nike and even being featured as one of the 16 women that inspired LeBron James' first shoe for women in collaboration with the sports brand.
All that and more made Kheris the perfect candidate to join 20 more girls for Teen Vogue's November issue "21 under 21."
THE TEEN VOGUE RECOGNITION
The "21 under 21" issue "spotlights extraordinary young women, girls, and femmes making waves in their industries or passions of choice," as stated by the magazine.
Kheri's message for other young people is simple, yet powerful:
"It doesn't matter what other people think about you. It's what you think about yourself. You should always believe in yourself. If someone tells you "you're too young" to do what you want to do, I would say not to listen to them. Basically, just go for it because no one can say you can't do this. It's what you want to do. No one can stop you from doing your dream."
Rogers was also featured on a full page spread on Essence magazine, an ad sponsored by ATT for the "Dreaming in Black" campaign. Which is focused on encouraging black people to dream big, embrace their culture, and put themselves into action to make their wildest dreams come true.
ANOTHER EXEMPLARY BLACK GIRL
Like Kheris, there are many other girls and women of color advocating for change and leading by example in the crusade for self-love. One of them is 20-year-old Khoudia Dop.
Khoudia was also bullied while growing up because of her dark complexion. The "Melanin Goddess" as she calls herself, was born in Senegal and moved to France in her teenage years. She's now working in New York where she has a promising career as a model.
"I was teased a lot growing up, because of my skin tone. By other kids, and now even online sometimes, people will make comments," she told Daily Mail. "Growing up, I faced it by confronting the bullies. As I grew, I learned to love myself more every day, and not pay attention to the negative people, which helped a lot."
Now Khoudia wants to encourage other women of color to embrace their beauty and be confident in the way they look. She also wants to challenge the "beauty standards" in the fashion industry, as she believes there's still a lack of diversity in the runaways.
Dop is also creating awareness about the damage that bleaching products cause in women of color. She recently called out Blac Chyna for creating a promoting a bleaching face cream.
"Girl I liked you, but this is not cool," she wrote on a lengthy Instagram post.
"Dark skin girls from all over the world get bullied because of their skin color and everyone is aware of it!! I find this so disgusting, I've seen some family members get serious skin damages because of skin bleaching and trust me, you don't want to see anyone you care about go through something like that."
While stars like Blac Chyna keep promoting this kind of products, Khoudia will keep using her platform to reassure black girls that they're beautiful and there's no need for them to change anything to stand out.
Please fill in your e-mail so we can share with you our top stories!