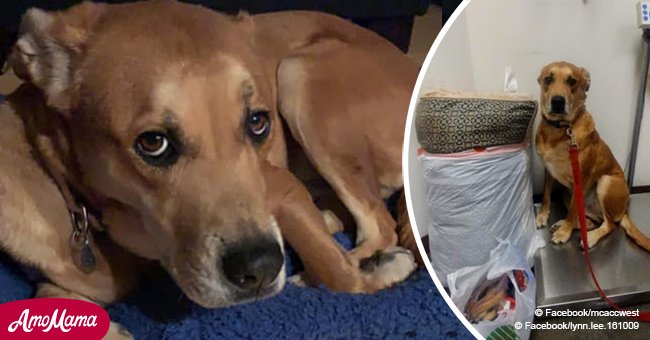 Dog abandoned at a shelter with all his toys
A dog named Wall-E was left to the shelter by his adopted family with all his toys and bed.
This past September, the owners decided to return the six-year-old to the Maricopa County Animal Care and Control (MCAAC) in Arizona, U.S. after living with him for three years.
Jordan Bader, who runs a Facebook page for the adoptable dogs of MCACC, disclosed to The Dodo that the adopted family could never again give the Labrador the affection and care he deserves.
The MCAAC shelter has been flooded with animals and could no longer accept all the pets that come through.
Follow us on our Twitter account, @amomama_usa, to learn more and scroll down to watch the video below.
"He was surrendered by his family because they did not have enough time for him," Bader said. "He was very scared. In his kennel, he would bark and bark."
DON'T JUDGE HIS PREVIOUS OWNERS
The staff at MCAAC urged everyone to respect the former owners' decision since no one knows the entire story, as reported by Metro.
"This guy deserves a forever family who won't give up on him. Please don't bash his previous owners though. We don't know the whole story," the folks at MCAAC said.
"What we do know is the owner was heartbroken and crying. It was hard to finally help them leave. The staff was crying with the owners. We don't believe this decision was taken lightly."
But to exacerbate the situation, the MCAAC shelter has been flooded with animals and could no longer accept all the pets that come through.
They are compelled to take in each animal dropped off, but they need to euthanize when their capacity is breached.
The shelter explained, "We have over 800 animals in our shelter right now. Maricopa County Animal Care And Control (MCACC) is the second largest intake shelter in the United States."
"We have to euthanise when we run out of space because legally we have to take every dog that comes to our doors. We are at that point now despite exhausting ALL resources including rescues, transports in state and out of state."
WALL-E'S WELL-DESERVED FOREVER HOME
Luckily, with the help of Bader, Wall-E found a new owner.
"About six volunteers and I run the [Facebook] page and network for the shelter dogs," said Bader. "We knew this picture would be heartbreaking and would get a lot of attention, but we had no idea it would blow up like it did. We had so many people interested in him."
A woman named Lynn Lee saw Wall-E's photo and immediately went to the shelter to meet him in person.
"They have been amazing," Bader said. "Wall-E gets along great with the family, loves dog parks and cuddling."
Wall-E is now giving his personality a chance to shine with his new mother.
ANOTHER HEARTWARMING STORY OF AN ADOPTED DOG
In 2016, Tom and Jane Cannone, of Virginia adopted Boombox, a deaf female Boxer, after searching through Carolina Boxer Rescue.
The Norfolk couple was surprised to learn that no one had adopted her up yet because she seemed adorable. But then they discovered it was most likely because she was deaf.
Boombox rarely barked and had never been scared of thunder, unlike many dogs.
Tom and Jane learned that their adopted dog had been trained to respond to sign language after a routine trip to Veterinarian Layne Brett at Dog and Cat Hospital.
They were happy to know they could still communicate with her.
Please fill in your e-mail so we can share with you our top stories!