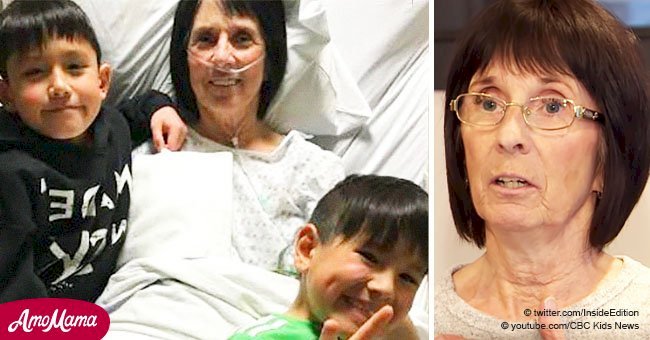 Hero brothers, 7 and 10, use CPR to save their grandmother's life
Two brave children saved the life of their grandmother after she suffered a complete cardiac arrest. They reacted immediately and avoided the tragedy.
Patti Chatterson, 62, suffered a massive heart attack and suffered a complete cardiac arrest on November 10, 2018, at her home in Saskatoon. Her grandchildren did a great feat to save her.
That night Grayson Wu, 7 years old and his brother, Kian Wu, 10, stayed at his grandmother's house and after watching a movie the younger boy asked his grandmother for a sandwich, but she simply did not answer.
Read more on our Twitter account @amomama_usa
GRANDMA DID NOT BREATHE
He immediately knew something was wrong with her. Her older brother went to look and saw her unconscious on the couch, turning her head back.
"She looked really dead," Grayson explained. "The saliva was coming back to her mouth, she was growling a bit."
The children called 911 after trying to call their parents and did not get a response. The mother of the children, Lee Chatterson Wu, who is a nurse, had taught her children CPR.
MOM TAUGHT CPR TO HER FAMILY
In June, Kian had a slumber party to celebrate his tenth birthday. The boys were playing when something unusual happened.
"There was a small child there whose parents are medical professionals and they have taught them things like this, the children were down watching a movie and I heard this child scream: 'It's a cardiac arrest, start CPR ... So I did a great thing about it, I said 'you're very smart, good job,'" Ms. Wu explained. "And my boys asked me to teach them," he added.
Chatterson Wu said he went over the basics to the children. "Where to do compressions, how to do them, breaths, cover the nose, cover the mouth." It was not a very deep teaching, "he said.
She confesses that "honestly, I thought that they would never need it, or that it was not necessarily something important to teach that to children of 7 and 10 years old".
THE MOST INTELLIGENT DECISION
Luckily the children knew what to do in this situation. After reviewing her grandmother they gave the address to the 911 operator, they told her that her grandmother was not breathing and had no pulse. The operator guided the children to put the grandmother on the floor and seven minutes later the paramedics arrived.
Patti Chatterson, who is also a nurse, said she has no memory of that day. Her first clear memory is waking up four days later at the cardiac care unit at Royal University Hospital, under the care of her co-workers.
She now recommends that parents teach their children the technique to save lives. No doubt a great advice because you never know when children may need that knowledge and simply save a life.
"Honestly, I thought they would never need it, or that it was not necessarily something important to teach that to 7 and 10 year olds."
This story reminds us of the case of Luke Benrud, who upon entering his kitchen found his wife lying on the floor.
He thought she had stumbled, however, realizing he had a bright purple color he knew he had to act quickly. His training in CPR of the Red Cross was decisive for that situation.
This boys' story reminds us of a five-year-old girl named Savannah who called 911 to save her father's life. However, her interesting conversation with the dispatcher became a viral sensation.
At the point when Savannah's father began experiencing chest pains and had difficulty breathing, he called 911 for help. But exactly when the call got connected, he was not able to talk.
His 5-year-old daughter then decided to take charge of the call. The recording of the conversation between her and the 911 operator was just amazing and even hilarious.
Please fill in your e-mail so we can share with you our top stories!