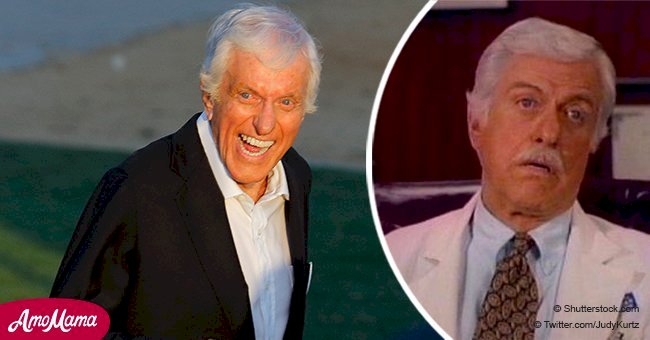 Dick Van Dyke responds to bizarre joke about his name with a photo that is better than words
Known for acting in films such as "Mary Poppins" and "Chitty Chitty Bang Bang" there is no doubt that Dick van Dyke is a legend of the screen. In current times his name sounds funny to some, but his response to these comments is even more hilarious.
Even at 92 years old Dick Van Dyke is an avid Twitter user and enjoys engaging with fans and haters alike. Recently he was mentioned in a tweet by British journalist Piers Morgan.
The tweet poked at the actor's name given the possible play on words with his first name and male genitalia as well as his surname being another word for lesbian.
Read more on our Twitter account @amomama_usa.
Piers pointed to the fact that in modern times it is not always politically correct using this word and therefore the actor's name itself can be seen as triggering.
THE TWITTER EXCHANGE
Dick gracefully shut down Piers' parade by replying with an image of himself where he looks like he could not be bothered. This exchange went viral and has been viewed by over 49 000 people.
By posting an image and not using any words, Van Dyke is leaving his reaction open to interpretation instead of starting a Twitter fight or engaging in any form of cyberbullying.
Piers Morgan has previously come under fire for his comments on Twitter, many of which started heated debates. Van Dyke has risen above this with a reply which shows that he saw Piers tweet but won't stoop to his level.
MARY POPPINS RETURNS
Dick Van Dyke returned to the Mary Poppins universe in a sequel to the original film called "Mary Poppins Returns." At the premiere, he was seen kissing his wife and looking overjoyed to be there.
He plays a different role from his previous stint as the chimney sweeper. He is now the son of the banker from the original film.
In the 1964 film, Van Dyke not only played the chimney sweeper but also the banker, however, the latter is a little-known fact, as he was wearing prosthetics.
What is also not well known about the film is that Van Dyke paid Walt Disney for the privilege to play the part. He had to ask special permission from Disney to portray the role of the banker.
Please fill in your e-mail so we can share with you our top stories!