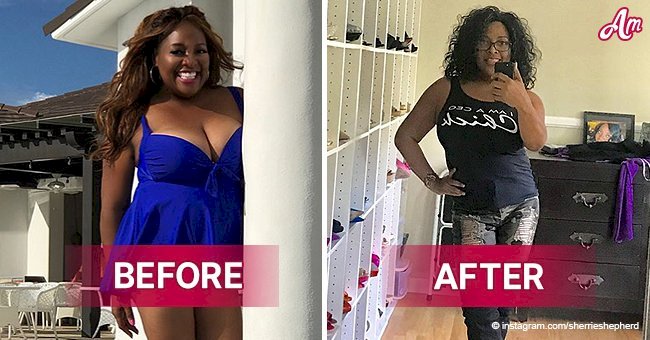 'The View' Sherri Shepherd shows a whopping body transformation after 260 days without sugar

Sherri Shepherd, from "The View," showed off her stunning body transformation in an Instagram post, shown below. She credits the weight loss to cutting out sugar for 260 days.
On Saturday, the gorgeous Sherri Shepherd posted a picture of herself on Instagram. She stunned fans with how much weight she has lost and how amazing she looks.
She proudly stated that the results are because she eliminated sugar from her diet. She revealed that she's lost more than 25 pounds since March.
"Getting it in!!! Over 260 days #sugarfree … can't begin to describe how #amazing I feel," wrote Shepherd in the caption of her post.
The gorgeous pic showed Shepherd taking a selfie in a full-length mirror. The slim and smiling Shepherd wore black over-the-knee boots from Guess.
She paired the boots with a pair of camouflage jeans from Centerstage Boutique. The outfit was completed with an "I Am a CEO Chick" tank top.
The former "View" host is not just celebrating her weight loss. She is enjoying the other health benefits of going sugar-free.
"Energy, clarity of thought and mind. Focused … patient w my son. Hearing from God a lot more clearly. Present. I've done this slowly and steadily and since March I've come down over 25lbs. This is not a fad- it's my life that is at stake. It feels so good to feel #good." she continued writing in her caption.
Shepherd went on to tell fans that she also stuck to a keto diet lifestyle. The diet is a popular celebrity diet choice.
The actress has been open about her weight struggles. She has kept fans in the loop and tracked her progress on her Instagram.
She recently also shared a studio pic where she put her slimmer legs on display. In a July interview on The Wendy Williams Show, she revealed that her son Jeffrey was the inspiration behind her health journey.
In the interview she also said, "For me, I always make Jeffery's father is a hero in Jeffery's eyes. All of the craziness has nothing to do with Jeffery. Jeffery's dad has two other children who I love so very very much. But these kids — Jeffery loves his siblings, and they love him."
"Awesome I'm 125 days without sugar! It's life changing! Congrats!!" commented one fan
Please fill in your e-mail so we can share with you our top stories!