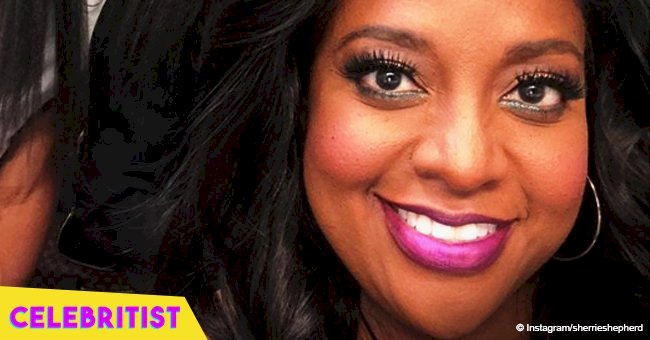 Sherri Shepherd flaunts her slimmer legs, while covered in blanket in the studio
Sherri Shepherd took to Instagram to share a studio pic where she put her slimmer legs on display. The comedian has been sharing results from her weight loss journey which she says was inspired by her son.
The photo showed Shepherd, 51, sitting before a studio mic. Her caption said it's "freezing in the studio," which explains Shepherd's large blanket. The "Trial & Error" actress crossed her legs to reveal slimmer thighs.
Since commencing her weight loss journey with a no-sugar diet, Shepherd has been sharing series of pictures and videos, mostly before and after shots of her weight.
In one of such recent photos, she was overjoyed at having dropped more than 30lbs and going from a Size 18 to a size 14 in about six months.
Shepherd also expressed gratitude for the ability to tuck her shirts in without fearing what the public would see.
THE STRAW THAT BROKE THE CAMEL'S BACK
While speaking with Wendy in a recent interview, the "Permission Slips" author disclosed that it took more than a pre-diabetes diagnosis to kick-start her journey. It was an innocent question from her son, Jeffrey that did the trick:
"I was eating something I wasn't supposed to. He said, 'Mommy, if you die, who's going to be my bodyguard?' I said, 'What are you talking about?' 'Who's going to watch me?' And literally I said, 'Sherri, you've got to do something different.'"
Shepherd agrees that it's hard to do away with sugar, but her health is of priority. "Do I want a #cheesecake? Yeah I do, but I want my #life and my #health more," she said.
SHEPHERD'S WORTHY AMBITION
Meanwhile, Shepherd, a former co-host on "The View" told Ebony that going back to the show would be like "when you break up with your boyfriend, and then you go sleep with them again." She, however, said she'd like to have her show someday:
"I would love to do a talk show. I would love to do what Ellen [DeGeneres] does. I would love to give [her] a run for her money. [Ellen] will go on and do something else, I'd love to take her place and continue."
Shepherd most recently starred as Anne Flatch on the NBC comedy series, "Trial & Error."
Please fill in your e-mail so we can share with you our top stories!