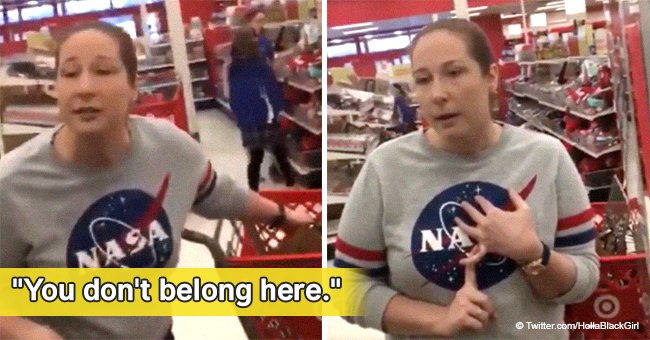 White woman in Target makes racist comments at 3 black women over conversation about Eartha Kitt

After three women were heard speaking about sex at a local Target store, a woman went up to them and started verbally abusing the group.
While the woman went on to scold the group for allegedly talking about sex in public, the three women tried to tell her that they were actually speaking about a movie and briefly mentioned sex.
Shocked about the whole ordeal, one of the women involved in the altercation posted about the story on Facebook. There, she said that they were talking about movies when they briefly referenced Eartha Kitt in "Boomerang". Once the unknown woman heard this, she said that it was an "inappropriate conversation" and asked them to leave the Target store.
According to Lena Jones, the unknown woman started saying racial slurs against them, which included statements like "we shouldn't be talking [about] our personal lives in public" and "you people are trained liars and perfect for the court system".
The woman, an unknown customer wearing a NASA sweatshirt, insisted that the three girls were talking about something inappropriate.
"You were talking about sex in public. Are you having sex in public? Because that's what you screamed out loud."
One of the women had to try and defend themselves, saying "that is not what we said". Her other friend then explained that the word "sex" was only mentioned as they were briefly speaking about the 1992 film "Boomerang".
Although the three friends wanted to stop speaking to the customer, she would not stop talking to them and refused to walk away.
"I understand you're an abuser. I understand you're abusive and you make up lies. Keep telling me I'm ignorant… Personal attacks… I also didn't realize talking about sex was normal."

After the altercation was getting heated, two employees including one named Oressa, spoke to each party separately. When asked about what transpired, the woman said that the group was causing "problems".
A woman in the group of three shared with Yahoo that the encounter was unprovoked and that they were just minding their own business.
"My cousin and I were visiting my best friend from out of state and we stopped by Target to buy a phone charger. I told my friend to try on a hat that looked like something Eartha Kitt's character who wore it in the 1992 film "Boomerang". After hearing this from her, the friend then said no, because "her character had sex with a younger man."
That was when the customer went on to join in on their conversation, saying that they shouldn't be talking about sex in public.
In the end, the group of friends applauded Target for the way they handled the situation, even sending a "Thank You" card to the employee who assisted them.
"The employees could have easily kicked us all out of the store, but they took time to listen."
With the rise of social media, incidents such as these are easily heard about nowadays. While they are often posted for mere entertainment, there is often a call for people to be more sensitive to people of different cultures and races.
Please fill in your e-mail so we can share with you our top stories!