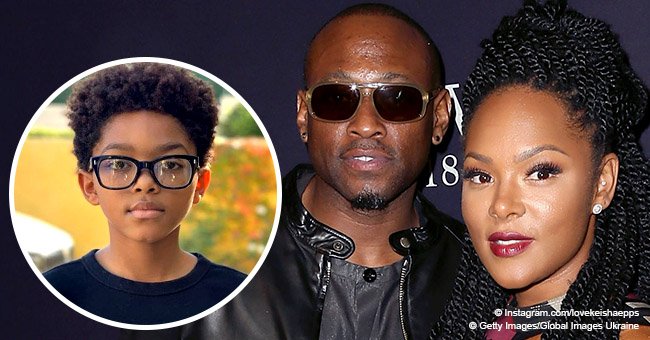 Omar Epps' wife melts hearts with new pictures of the actor's look-alike son
Keisha Epps recently took to Instagram to share a set of gorgeous pics of her son with husband, Omar Epps. Fans can't stop gushing about young Amir and how much he looks like his dad.
Keisha and Omar Epps are one of the strongest couples in the entertainment industry. He's an actor better known for his role in the TV series "House," and she was once part of the girl group Total. The couple has been together for 19 years and married for 12, but they're still going strong.
Aside from having successful careers, the couple has two kids: daughter K'mari Mae, 14 and son Amir, 10. Omar also has an eldest daughter, Aiyanna, from a previous relationship.
Keisha is always delighting fans with pics of her beautiful family shared to Instagram, and she recently melted hearts with some candid shots of Amir, as he gets ready to celebrate his birthday on Christmas.
In the pics, Amir is wearing a black t-shirt with the "Star Wars" logo printed on it, jeans, and black sneakers. He also wears square glasses that make him look smart, as he checks his phone in the pics with a concentrated expression.
"21 more days 'til your birthday Prince #ChristmasBaby," Epps captioned the post.
Fans took over the comment section to discuss whether Amir looks more like Keisha or Omar, and most people agreed he's just the perfect mix of his talented parents.
"He looks like his daddy!" said one user. While another added, "If he doesn't look like his momma bear in this photo. Omg!!!!" However, a third one chimed in to say: "He looks like the both of you perfectly!" and "he's getting more handsome by the day."
Earlier this year, Omar Epps released his first book, "From Fatherless to Fatherhood," in which the 45-year-old tells the story of how he went from growing up without a paternal figure in a neighborhood filled with drugs and crime, to being a successful actor and father of three that has always been present in the life of his kids.
Speaking about the self-published book with The Hollywood Reporter, Omar opened about the striking differences in raising girls from boys. Girls, he said, are "calmer when they are babies," but once they reach the teenage years all their emotions take over, and it gets a bit complicated.
As with boys, he said, they have too much energy just like young Amir.
He also revealed that he would allow Amir to read the book when the boy is ready.
Amir is already following his dad's steps into the entertainment industry. He has been featured in TV commercials and landed a role on a movie that's still under wraps. Keshia praised her boy for remaining humble and grounded through it all last year, as she shared one of his commercials and said:
"Super proud of him for the commercials and print he's booked but even more proud for the way he conducts himself on and off a job. All the while he's working… he's still a kid, and that's first and foremost. A polite & LOVING kid at that."
Amir allegedly wants to build roller coasters in the future, so he's been saving all his earning from modeling gigs to assure his college education. What a thoughtful kid he is.
Please fill in your e-mail so we can share with you our top stories!