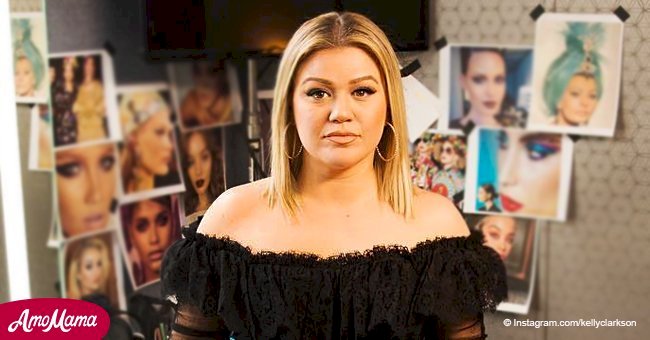 Kelly Clarkson shows off her impressive weight loss on 'The Voice'
The singing sensation, Kelly Clarkson showed off her recent weight loss in a shaped black dress on 'The Voice,' and gushed about her starstruck meeting.
On December 4, Kelly posted two new pictures of herself looking healthier and happier than ever as she showed off her new curves. Kelly had already signed on for another season of the NBC show, 'The Voice' and her almost 40-pound weight loss quickly got noticed by fans as she stunned in a little black dress.
The figure-hugging black dress featured mesh sleeves and an off the shoulder design with a gold belt that showed her slim waist. To accessorize she wore strappy black heels which featured a beaded embellishment across the ankle and gold loop earrings.
The mother of two also posted a headshot as she posed in her dressing room before heading out to join the rest of the judges for the start of the show, 'The Voice.'
Read more on our Twitter account @amomama_usa.
In June Kelly appeared on 'Today' and confirmed then that she had managed to lose 37 pounds without any exercise. She elaborated that she had been diagnosed with an autoimmune disease and thyroid issues back in 2006.
The secret behind her losing the excess weight she credits to a book she read last year, 'The Plant Paradox: The Hidden Dangers in Healthy Foods that Cause Disease an Weight Gain.'
The singer spoke of the book during an appearance on the morning show, E! News, that the book worked "wonderfully" and said the best consequence is that she no longer needs to take medication after changing her diet, with the weight loss being a bonus.
Laughingly Kelly admitted that she prefers wine instead of hitting the gym. She probably wished she had a glass of wine before she recently met Cher for the first time.
On Sunday, December 2, Kelly attended a gala at the Kennedy Center in support of her husband's former stepmother, Reba McEntire, who was being honored that night.
While doing the red carpet rounds, Kelly stopped to give a short interview to Extra, and that is when things took an unexpected turn. Kelly heard the familiar sound of Cher's voice nearby and told her interviewer:
"I hear Cher behind me right now. She's right behind me right now. I can't even talk about it. I've never met her."
Oblivious to Kelly Clarkson's impending starstruck ramblings she met Cher moments later and excitedly uttered, "I've been talking about you the whole time!" T Cher's credit, she handled the enthusiastically awkward encounter with grace and a big hug.
Apparently, her sweat glands work as good as they have before her weight loss as she mentioned several times that she was 'sweating like a pig' when she met Cher.
But her curves is not the only thing Kelly showed off on 'The Voice' recently, she also shared an adorable picture with her two children, 2-year-old Remington and 4-year-old River in her dressing room.
Kelly captioned the picture where she is crouching beside her beautiful children, "Love when the kids come see me on set!"Fans quickly commented on the cute picture with admiration and praise for Kelly and her family, and it is not surprising that it has garnered over 250,000 likes since it's upload on November 14.
Please fill in your e-mail so we can share with you our top stories!