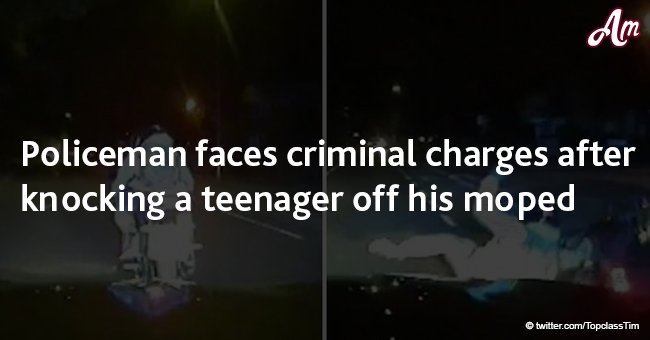 Policeman faces criminal charges after knocking a teenager off his moped
A Metropolitan Police officer used a controversial maneuver to knock a teenager off his moped, leaving the boy with serious head injuries.
The officer is now under criminal investigation and he could be charged for knocking the teenage criminal after carrying out a tactical contact maneuver to deliberately stop him.
The charges could include actual bodily harm and grievous bodily harm. A decision is due over whether evidence gathered by the police watchdog should be passed to prosecutors.
According to a Metro report, the teenage rider, who was not wearing a helmet, was admitted to hospital with serious head injuries but he was later discharged. Follow us on Twitter for more @amomama_usa.
"In the early hours of Tuesday, 7 November a 17-year-old male suffered injuries after the moped he was riding was the subject of a tactical stop in Bexley," said a spokesman for the Metropolitan Police.
The boy pleaded guilty to five offenses at the youth court, including theft, dangerous driving, and driving without a license.

Source: facebook.com/visordown
"Ultimately no police tactic can ever be used with impunity in a country where we police by consent – be that tactical contact, the use of firearms or the use of restraint. It is always a matter of whether it's reasonable and proportionate in the circumstances." said a spokesman from the Independent Office for Police Conduct.

Source: facebook.com/visordown
Apparently, some senior officers have defended the use of this tactical contact maneuver. They believe it was needed to stop dangerous chases and that it has helped to reduce moped-enabled crime in London by more than a third.

Source: facebook.com/visordown
Meanwhile, in another excessive of force case, a police officer used a stun gun on an 87-year-old woman, who can't speak English, after she was seen with a knife. Supposedly, she was only trying to cut some flowers, but the authorities misinterpreted her actions.
The incident that occurred in Georgia caused an outrage among the public, especially from the elderly woman's family. As for the police, the chief of the department defended the officer who deployed the stun gun, saying they were just following protocol.
Please fill in your e-mail so we can share with you our top stories!