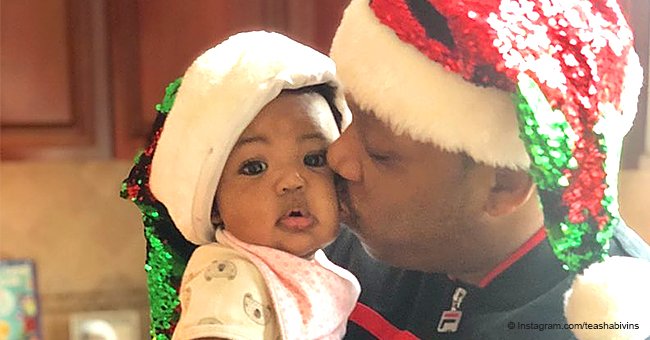 Mike Bivins melts hearts while doting on baby daughter as they wear matching Santa hats in pic
Mike Bivins is lip to cheek with his youngest daughter in a sweet photo celebrating the Christmas spirit.
Mike Bivins is feeling the Christmas spirit and he has every reason to celebrate. He has a brand new daughter who makes the holidays this year extra special. Joining him in a photo to ring in the season is 7-month-old Sanaah Amani.
Mike welcomed his youngest daughter in May. She joins his three older daughters he refers to as his "Lil Supremes." Mike is proud of the fact that his daughters adore him and call him their "daddy" and not their "father." He explained the difference in an open letter in 2015.
"Your kids call you Daddy because of the time you spend with them and the love you share with words and moments in the same house. Fathers sometimes don't live in the house and come around every now and again. When some kids introduce their dads, they say 'That's my father.' My kids say, 'That's my daddy.'"
With the way Mike dotes on his latest child, he can also count on her to call her "daddy" in the future. In the meantime, he delights in showering her with kisses, much like he did in a recent photo his wife Teasha uploaded online. In the sweet Christmas pic, Mike gives Sanaah a peck on the cheek as they wear matching Santa hats. The little girl appears to be looking directly at the camera while her father carries her close to him.
"All the way in the #ChristmasSpirit over here #happysunday #bivfam," Teasha wrote.
Mike recently celebrated turning 50 by returning to his hometown in Roxbury, Boston. He was joined by his wife and their four girls. His homecoming coincided with the renaming of the Ramsey Park basketball court which was rechristened in his honor, an event also attended by his co-members in New Edition and the other band he founded, Bell Biv DeVoe.
Mike is currently part of the group RBRM which stands for Ronnie (DeVoe), Bobby (Brown), Ricky (Bell) and himself. The four first collaborated as members of New Edition.
Please fill in your e-mail so we can share with you our top stories!